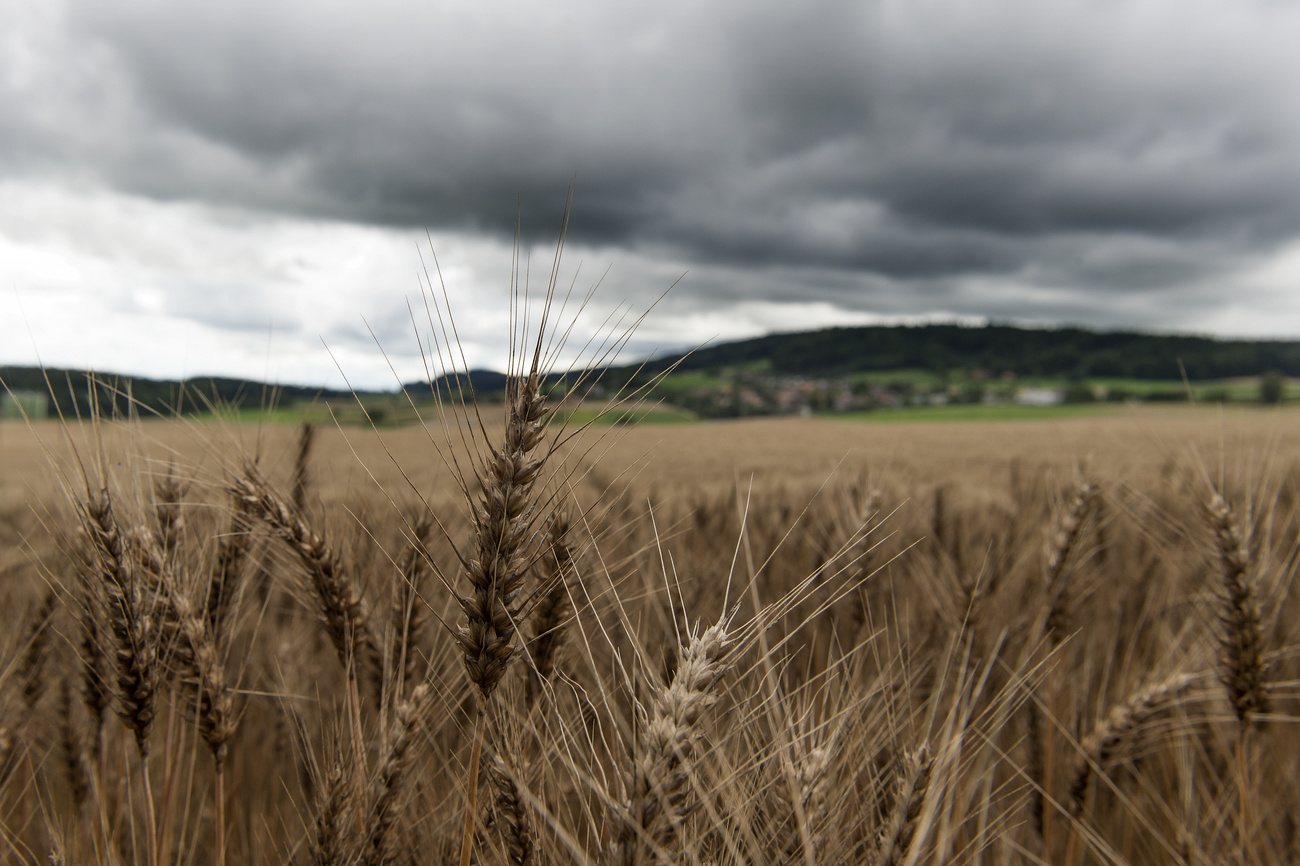 To cope with more frequent and lengthier periods of drought, food producers in Switzerland could grow more winter crops and turn to smart irrigation systems, says the head of the Federal Office for Agriculture.
This content was published on July 8, 2023



Tamedia/gw
"At the moment the drought is significant – you can see brown meadows everywhere," said Christian Hofer in an interviewExternal link published in the Tamedia newspapers on Saturday. "If the weather stays like this in July and August, there will be big yield losses [for farmers]."
Hofer explained that while precipitation has remained constant in the country over the years, its distribution has changed. Glaciers, which act as reservoirs, have lost roughly half their volume as a result of climate change. Now, there also tends to be more precipitation in winter than in summer, which means less water during the growing season.
"We have to prepare ourselves for the fact that we will have water shortages in the summer in the future," Hofer said. "We have to learn how to produce food with less water. In Switzerland, too, it can no longer be taken for granted that water will flow without restriction."
To face this challenge, he added, the amount of money being invested in smart irrigation technology should be quadrupled in the next ten years.
The federal government is currently investing between CHF2-3 million ($2.25-3.38 million) a year in this technology, on top of contributions made by the cantons and farmers themselves.
More winter cultivation
Another solution that he foresees is to grow more winter crops – winter wheat, for example, could benefit from rain in winter. Hofer also suggested practising soil-conserving cultivation "to reduce evaporation and make the best possible use of precipitation that comes directly onto the fields."
+ Why water-rich Switzerland needs to monitor droughts
Hofer also believes the country should store more water, although he acknowledged the lack of available land for retention basins was an obstacle. The bottom line, he said, is that "we need an overarching water management system to avoid conflicts of use."
In compliance with the JTI standards
More: SWI swissinfo.ch certified by the Journalism Trust Initiative