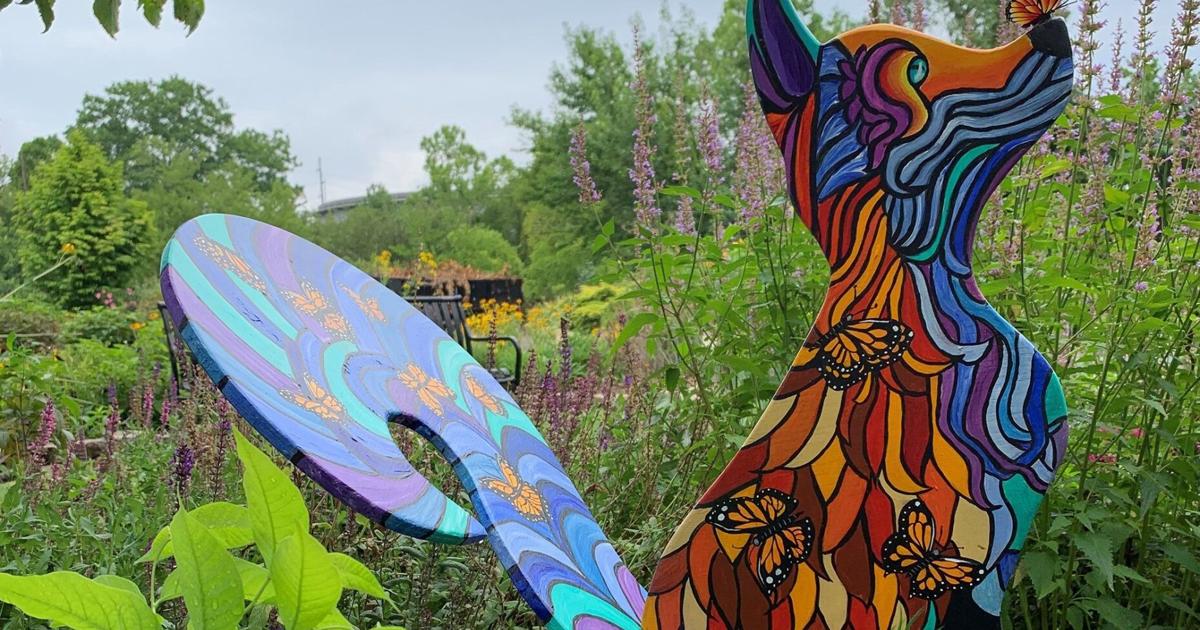 KNOXVILLE – Come see some fanciful foxes while strolling through a beautiful garden.
The University of Tennessee announces the opening of Fanciful Foxes: A Garden Art Exhibit, its 2023 Art in the Gardens display. The exhibit opened Friday, July 7, from 5:30-7:30 p.m. as part of Knoxville's First Friday arts celebration. The event and the exhibit are free and open to the public.
Now in its sixth year, the project is designed to promote community participation and artist collaboration with the UT Gardens. This year's fun and whimsical event serves to raise awareness about the need to protect wildlife as urban development encroaches on their habitat. It also serves as a fundraiser to support the UT Gardens and its mission to be a community resource for education, research and outreach on environmental stewardship, plant evaluation and landscape aesthetics.
Approximately 40 local artists have painted, decorated or embellished three-dimensional fox cutouts that are about 2' x 2'. Placed throughout the UT Gardens, they will be on display during the summer for all to enjoy. Additionally, fox facts will be displayed to enhance the visitor's experience. A concurrent kid's exhibit will be on display. Local children participated by decorating either a fox head or tree silhouette. These pieces are displayed on the wall within the Children's Garden.
An exciting online auction of all adult and children's pieces will be held in late September 2023, and all proceeds directly benefit the UT Gardens, Knoxville.
You can find the UT Gardens, Knoxville, just off Neyland Drive behind the UT Veterinary Medical Center on the Institute of Agriculture campus. From I-40 take Exit 386B onto Highway 129 (Alcoa Highway south toward the airport). From Highway 129 take the exit for Highway 158 (Neyland Drive). Turn left onto Neyland Drive at end of exit ramp. Turn left onto Joe Johnson Drive and right at the next light onto Chapman Drive. Free visitor parking is available directly across from the entrance to the UT Gardens.
Through its land-grant mission of research, teaching and extension, the University of Tennessee Institute of Agriculture touches lives and provides Real. Life. Solutions. utia.tennessee.edu.
###
About UT Gardens, Knoxville: The UT Gardens feature more than 1,000 woody plants under long-term observation and 2,000 varieties of herbaceous plants evaluated annually. The Gardens function as an outdoor laboratory, teaching and research facility, and public garden, sharing their beauty with over 50,000 visitors yearly. Established in 1983 by the UT Institute of Agriculture Department of Plant Sciences, the Gardens are recognized as an official All American Selections (AAS) test site for evaluating new plants for the ornamental market, an American Conifer Association and an American Hosta Society reference garden, and a Tennessee certified arboretum. The Gardens are a valuable resource for home gardeners and landscape professionals.