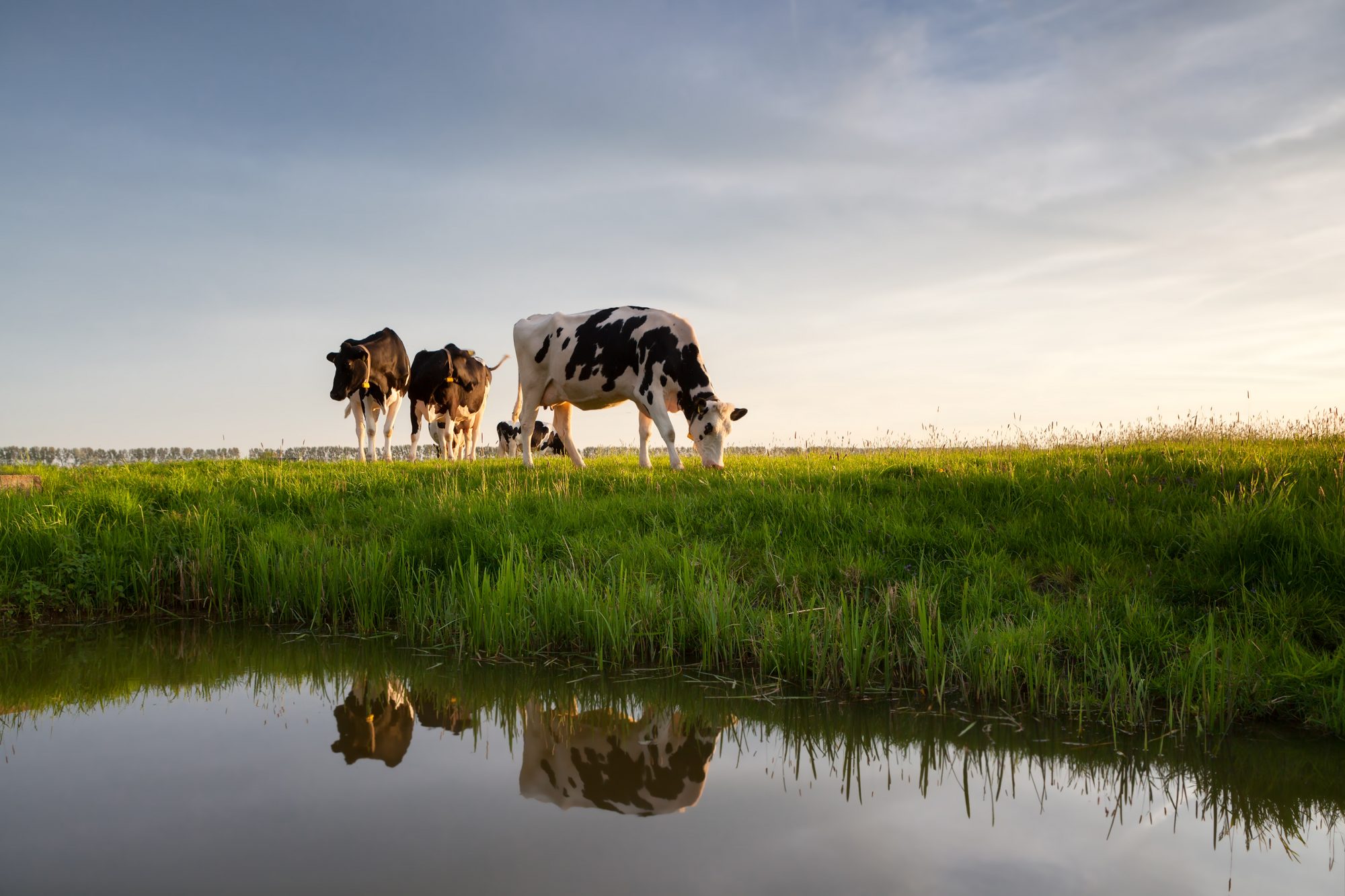 Water covers a staggering 70 per cent of Earth's surface. However, access to usable water is extremely limited, with only three per cent of this being freshwater, two-thirds of which is trapped in glaciers and snowfields leaving only one per cent of all the Earth's water actually available for human use.
While we tend to think of water's primary life-sustaining use as drinking water, the single biggest global consumer is agriculture, using 70 per cent of all freshwater reserves. This is used to: grow crops (including animal feed crops), general on-farm use, such as cleaning, sanitation, crop spraying; and to rear farmed animals which feed the world's meat, dairy and egg demand.
The proportion of water used to produce animal products is not small. In fact, it's estimated that meat and dairy are responsible for around a third to 40 per cent of agriculture's water demands. Given that animal products only provide 18 per cent of the world's calories this is an inefficient use of an extremely limited resource.
Our food and its water footprint
Everything we consume has a water footprint that reflects how much water is used to produce it. The FAO predicts that depending on your diet, it takes "2,000 to 5,000 litres of water to produce the food consumed daily by one person". This huge difference comes down to what we choose to eat – notably animal products or vegetable crops. Figure 1 shows the comparison between different food products based on research from Mekonnen and Hoekstra (2010; 2012).
Meat scores significantly higher than most plant-based products, with beef, pork and chicken using nine, four and three times more water respectively than cereals. While milk looks like it has a relatively low water footprint, when you compare it to the water demand of plant-based alternatives, it is significantly higher, using as much as two to 20 times as much freshwater, depending on the plant milk.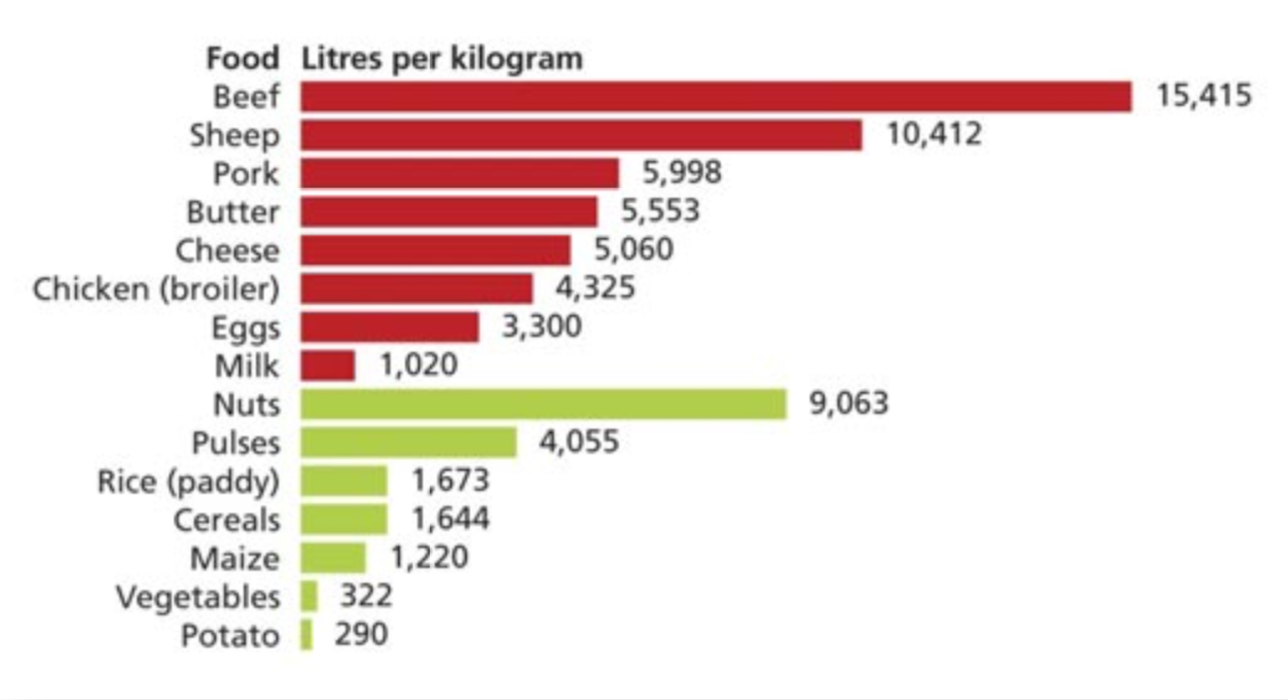 The problem isn't that cows and sheep are exceptionally thirsty – only a fraction of the water used for farmed animals is drinking water. A study by Mekonnen and Hoekstra (2010) found that the vast majority, around 98 per cent, of this water is used to grow animal feed crops.
Growing crops to feed to animals for meat and dairy production is an unnecessary addition to the food chain, and a waste of limited resources.
This is recognised by experts, such as those at Chatham House, who say: "A global shift in diets away from livestock products could free significant water resources".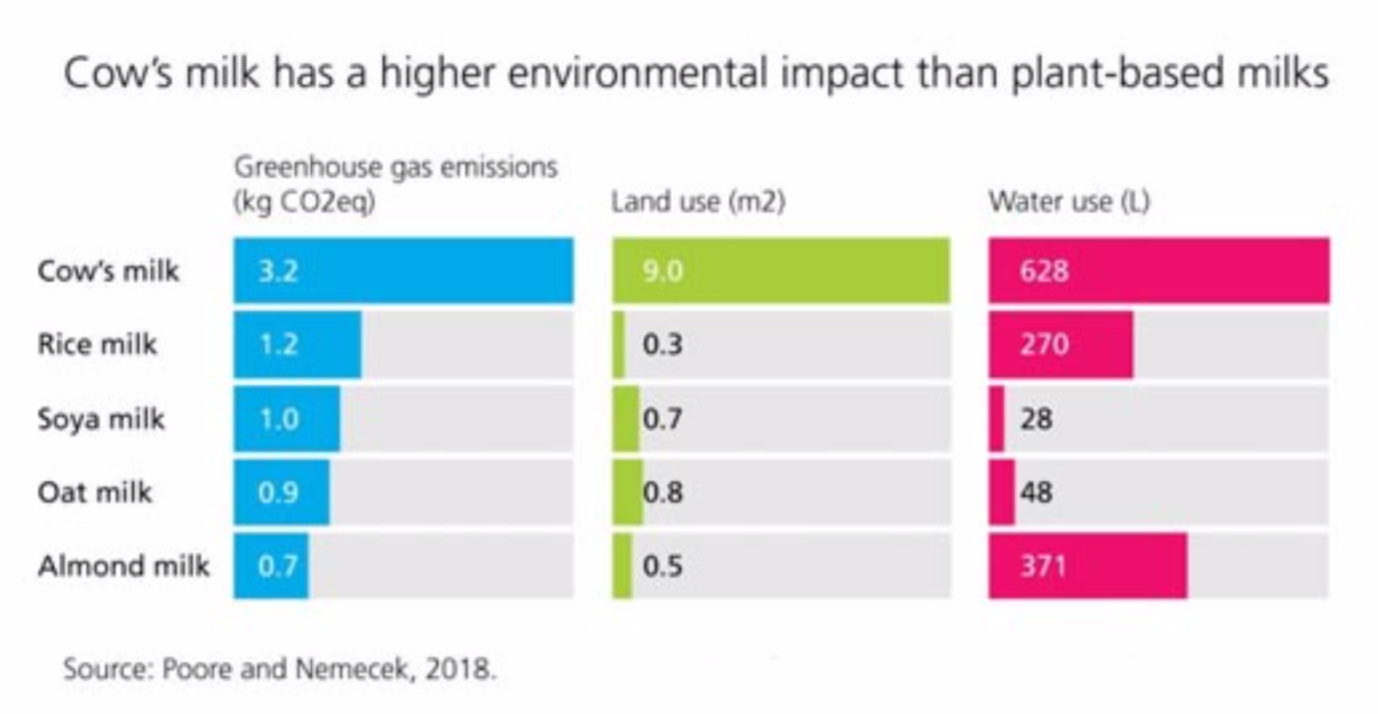 Understanding the extent of water pollution in agriculture
Inefficiency isn't the only water-related problem when it comes to animal agriculture, water pollution from farmed animals and feed crops is also a growing problem.
Currently, at least 70 per cent of all farmed animals in the UK are factory farmed. Housing hundreds or even thousands of animals together in a small area, results in huge quantities of manure. In fact, farmed animals produce seven to nine times more sewage than humans, and most of it is left untreated!
The excess nutrients from this animal waste, alongside the fertiliser used on crops to feed them, then runs off into waterways resulting in eutrophication (the excess accumulation of nutrients in water) – leading to dead zones, where little to no aquatic life can live.
This is due to nutrients, such as nitrogen and phosphorous, promoting the growth of harmful algae blooms which remove oxygen from the water, making it unable to support life.
In the EU, 38 per cent of water bodies are significantly under pressure from agricultural pollution. Closer to home, the environmental management of River Wye has recently come under scrutiny, with the Environmental Agency being taken to High Court over claims it has failed to protect the river from agricultural runoff.
At the centre of this case lies an algal bloom, which in June 2020 stretched for more than 140 miles, posing a significant threat to local biodiversity. Research from Lancaster University found large quantities of phosphorus present in the River Wye thought to have come from expanding poultry farms nearby, estimated to house around 20 million chickens.
Water security in a continually warming world
Water scarcity is one of the world's most dangerous challenges; currently, over two billion people live in countries with inadequate water supplies.
Richer countries further exacerbate this global problem by importing 'virtual water' in meat or animal feed crops – essentially moving our water footprint abroad. In the UK, it is estimated that we import up to 50 per cent of our food. By switching to a vegan diet, we would play a key role in preserving crucial water reserves not just in our own country, but across the world as well.
As the world continues to warm, the requirement to reduce water consumption will be even more significant, with the climate crisis altering weather and water patterns around the world, causing shortages and worsening water scarcity.
A recent report by Christian Aid predicted that by 2050, British rivers could lose more than half of their water. Even sooner, by 2025, two-thirds of the world's population may face water shortages.
Animal agriculture, a leading cause of the climate crisis, contributes to a fifth of all global greenhouse gas emissions. Therefore, if we want to reduce or avoid the impending water shortages, we must address the key drivers – meat, dairy, fish and egg consumption.
The world's finite water resources are already being pushed to their limit, and this will only worsen as the population grows and the impacts of the climate crisis intensify. However, we already have a key solution.
Reducing animal-based foods offers the potential to save enough water to feed 1.8 billion additional people globally and will significantly reduce global greenhouse gas emissions. It's time we moved away from this inefficient system by switching to a vegan diet.
Viva!'s environmental campaigns raise awareness of how eating meat, dairy, fish and eggs lies at the heart of nearly every environmental issues. Explore our campaigns Vegan Now and Eating the Earth to find out more and see how you can help.