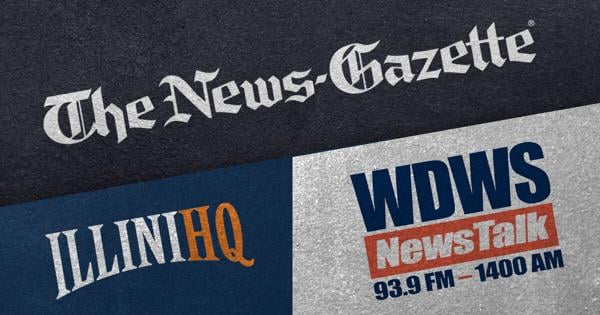 CHAMPAIGN — Clearview Farm in north Champaign takes pride in regenerative agriculture and engaging with the community.
Soon, the Atkins Group-owned farm known for its expansive sunflower fields will have a new attraction: a pollinator garden in the shape of the state of Illinois with nearly 1,000 plants and more than 20 different native species.
"Having a place where folks from the Champaign-Urbana community can come and learn about pollinators and agriculture's commitment to pollinators is certainly an excellent thing," Atkins Group farm manager Sophia Hortin said. "We're famous for our sunflowers, and so this will be another site for visitors to come and enjoy and learn about agriculture."
Construction on the garden will begin this summer before planting takes place this fall. It will feature river rock channels that will carry water throughout the garden.
Mahomet-Seymour High School's FFA club will assist with planting in the fall and is currently housing the pollinator plants at its greenhouse.
That partnership began about six months ago when Mahomet-Seymour FFA organizers Jacob Meisner and Jennifer Wherley met with Hortin and Jim Goss, the Atkins Group's director of farm management.
"We just thought this was a great alignment for our students to learn about native Illinois plants, but also just how projects like this work in general," Wherley said. "The process of growing those plants in the greenhouse and seeing that opportunity, our students really had their eyes open to what it takes to get involved in those kinds of processes (and) learned a lot about skills and how to make those things happen."
The project was inspired by a similar undertaking by the Kane County Farm Bureau.
"We went and visited their garden, and it's stunning," Hortin said. "We had so much fun (during) our visit up there, so we're really excited about that."
It won't take away from the farm's sunflower fields, which annually draw strong crowds with attendees from far and wide.
This year's crop is on track to bloom in August after weathering warm and dry conditions throughout June.
"Growing conditions in June were pretty unforgiving," Hortin said. "We had almost no rain for the entirety of June, but luckily, there in the last week, we got some showers, so that brought the sunflowers up, and they're coming along nicely. I think last time I checked them, they're about waist high."