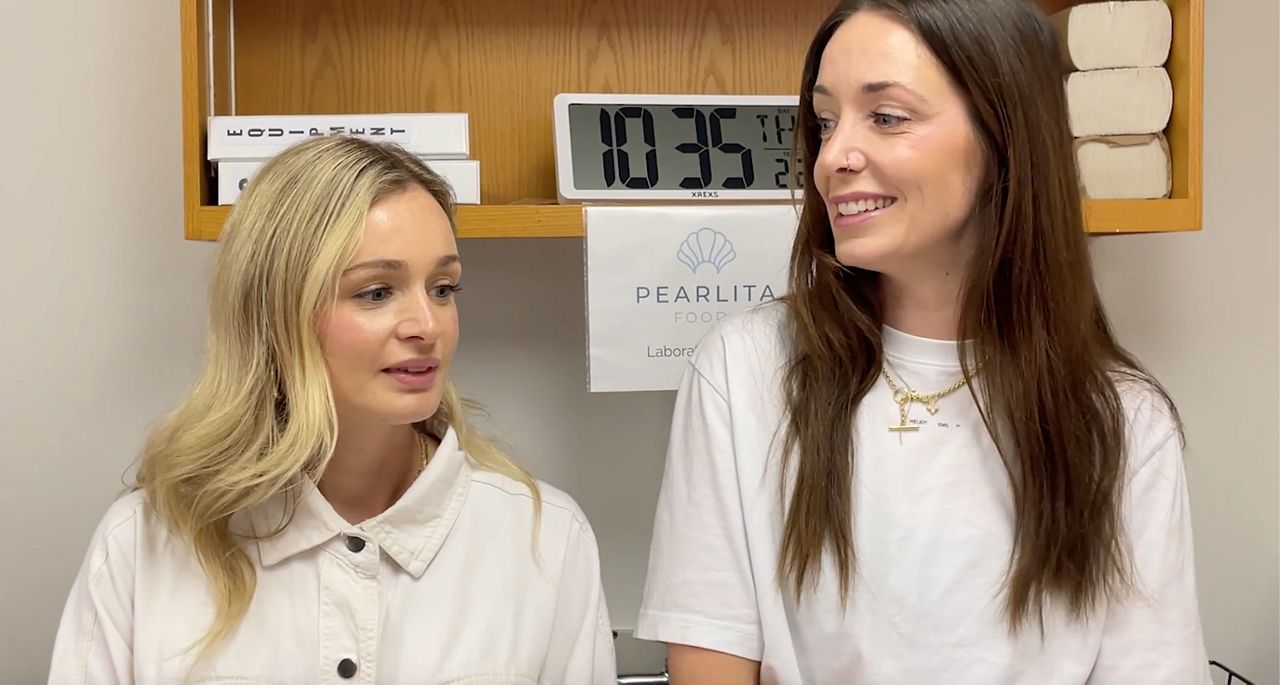 RALEIGH, N.C. — Agriculture is estimated to produce 10% of the planet's greenhouse gas emissions, and two sisters from Denmark have created companies in North Carolina to develop more sustainable alternatives. 
The Michelsen sisters brought a theory developed by Danish researchers to the Triangle. 
Stephanie Michelsen is working on creating animal proteins in a lab. 
"Now we're getting a lot of the proteins and materials, ingredients, all this kind of stuff from animal agriculture, which is one of the major contributors to greenhouse gas emissions. So I wanted to build a company where we can make proteins clean, ethical, sustainable and also have them be consistent in quality and price," Stephanie Michelsen said. 
And Nikita Michelsen is developing sustainable alternatives to seafood.
"Have five products that are ready to commercialize. One of them is the oyster that we like to serve on the half shell. Both have shredded crab and then we have shellfish pieces to put those shellfish pieces into CVG and then we have a clam chowder," Nikita Michelsen said. 
Stephanie Michelsen's lab employees develop cow cells without a single cow in sight. 
"We grow the cells and then they make protein and then we isolate the protein from this, this flask here. And the first protein we're working on is collagen. And its derivative gelatin, which is used in food and beverages, cosmetics, pharmaceutical, biomedical," Stephanie Michelsen said. 
Nikita Michelsen's seafood dishes are all made from mushrooms, and seaweed is what creates the seafood taste. 
"These are vegan, gluten-free, dairy-free shellfish, allergy friendly," Nikita Michelsen said. 
Both have a strong sense of responsibility to help make agricultural into a more sustainable industry. 
"And I just fell in love with this kind of marriage between biotechnology, synthetic biology and also having a positive impact on the planet," Stephanie Michelsen said. 
"I grew up eating a lot of seafood. Unfortunately, over the years, due to overfishing and climate change, it's not as accessible. It's not as affordable," Nikita Michelsen said. 
The sisters hope their companies will help make food insecurity a thing of the past. 
"When I leave this planet one day, I hope I can leave something positive behind," Stephanie Michelsen said.
"Trying to leave the world a better place than when you came into it, I think," Nikita Michelsen said. 
Both sisters are fundraising to continue the research into sustainable agriculture.