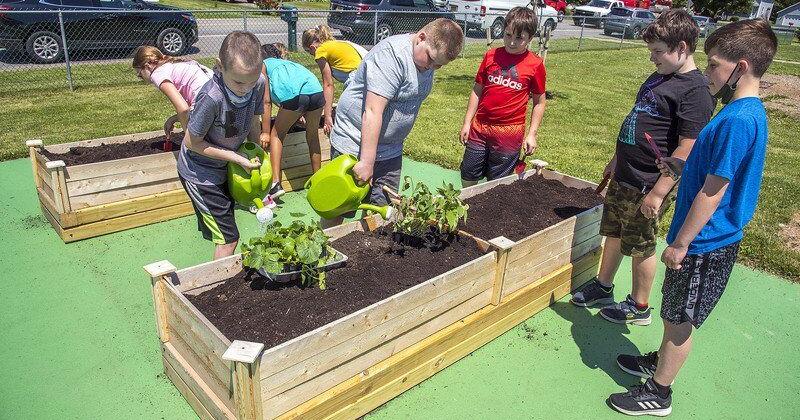 A Royalton-Hartland school program has received high honors from a New York state group and is currently in the running for national recognition.
The school's Agricultural Education program and its agricultural educator, Matthew Sweeney were recognized with the Outstanding Middle/Secondary Agricultural Program Award from the New York Association of Agricultural Educators at its awards banquet on June 21.
"I was ecstatic, because it's recognition the students deserve for their hard work," Sweeney said.
The award is presented to a school's agricultural education program that provides, "students the skills necessary to be successful in their future career paths" according to the NYAAE.
Roy-Hart's agriculture program is also a regional finalist competing in the National Association of Agricultural Educators Outstanding Program for Region 6, which encompasses over a dozen states in the Northeast United States. Winners are expected to be announced in August.
If Roy-Hart is selected, they will be invited to the National Association of Agriculture Educators Event in Phoenix in December.
Sweeney, the founding instructor of the program, was also recognized with the Northeast Regional Outstanding Early Career Agriculture Teacher Award and the District IX Golden Owl Award.
Since the program was reintroduced in September 2016, more than 700 Roy-Hart High School students have participated in the program.
Sweeney said it educates students on something that is central to their community through hands-on coursework in areas such as agricultural science, animal science, food science, and advanced Agri science
"Roy-Hart contains the most farm land out of any school district in Niagara County. Agriculture is what's right in our backyard," he said.
Sweeney has overseen the program's growth over the past seven years, which has boasted five teams that have gone to compete in the Future Farmers of America competition in Indianapolis, Indiana. Two of the program's teams, Milk Quality and Products and Nursery Landscape, both earned silver placing in last year's competition. They will be sending students once again to this year's competition.
They have also received a USDA farm-to-school grant which gets local food into the school's cafeteria. Sweeney said the district will also be looking to expand agricultural education throughout the district and plan to hire another agricultural teacher for the middle school.
No matter what career path a student chooses once they graduate, Sweeney argues, what they learn through the program can be applicable to whatever situation they may find themselves in.
"Even if it's not for their career, they may have to make decisions every single day that relate to agriculture," he said.