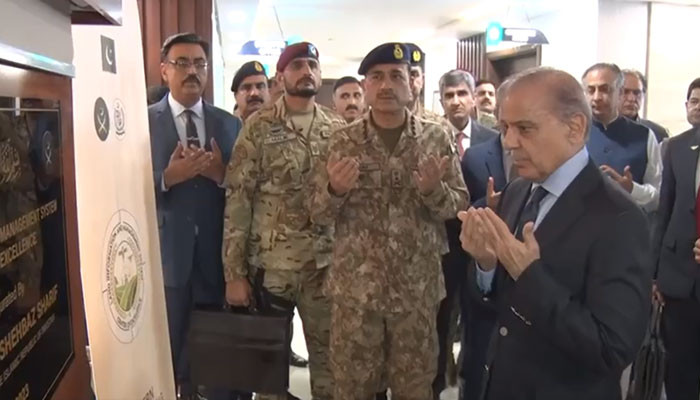 ISLAMABAD: Prime Minister Shehbaz Sharif Friday inaugurated the Land Information and Management System-Centre of Excellence (LIMS-CoE), which is believed to revolutionise the agriculture sector in the country by enhancing modern agro-farming and utilising over nine million hectares of uncultivated state land.
The inaugural ceremony was also attended by Chief of Army Staff (COAS) General Asim Munir, ministers, provincial chief secretaries, agricultural experts and army officers.
The launch of LIMS-CoE, the first exceptional initiative, is aimed at enhancing food security, improving agricultural exports and reducing import burden on national exchequer by transforming millions of acres of uncultivated/ low-yield land in the country. The system would help optimise agricultural production through innovative technologies and sustainable agricultural practices, based on agro-ecological potential of land, while ensuring wellbeing of rural communities and preservation of environment.
Saudi Arabia has provided an initial $500 million investment to set up the facility, and huge foreign investment is expected to be made in the sector in near future. "As far as the high efficiency irrigation system is concerned, Saudi Arabia has already given us [Pakistan] $500 million," Maj-Gen Shahid Nazeer, who heads the LIMS-CoE, told reporters at a briefing on Thursday. "Aimed at enhancing modern agro-farming utilising over 9 million hectares of uncultivated waste state land, the LISM-CoE has been established under the Director General Strategic Projects of Pakistan Army," he added.
The state-of-the-art system would revolutionise means to steer agricultural development through real-time information about land, crops, weather, water resource and pest-handling under one roof, according to the official.
The centre would work in collaboration with Saudi Arabia, the United Arab Emirates, Qatar, Bahrain and China on various agri projects to enhance Pakistan's exports. "In the next 3-4 days, a very high-powered Saudi delegation is coming to Pakistan to explore this kind of investment in four major sectors including agriculture, mines and minerals, information technology (IT) and defence production," he said, adding that that would be done under the umbrella of the Special Investment Facilitation Council (SIFC) that was recently established to revive the Pakistani economy.
Meanwhile, PM Shehbaz also inaugurated the laptop programme for the youth, here on Friday. Addressing the launching ceremony, he said it had been his mission to provide every youth with a laptop machine to enable them to successfully move forward in their respective areas. He said for the youth and brilliant students, laptop was only a machine, but for him, it was a mission to give the country a brighter future.
He said the government would empower youth to ensure development and prosperity of Pakistan. He said the youth were capable enough to transform the country's fate with their hard work and dedication and leave the neighbouring country far behind in terms of economic development and prosperity. He said laptops helped students a lot during Covid pandemic days when they took their classes online while sitting home and also earned their bread and butter by working as freelancers.
He said he had provided scholarships to talented youth as the Punjab chief minister under the Punjab Education Endowment Fund (PEEF), and the beneficiaries of those programmes were now serving the country in various areas including health, IT and engineering.
He said that apart from 100,000 laptops, approved for the previous financial year, he had also managed another 100,000 laptops, approved for the current fiscal year. He said laptops would be distributed purely on merit, and no influence would be accepted in that regard. For the youth from rural areas, he said the government had allocated Rs5 billion to provide agricultural loans, while another Rs5 billion had been allocated for provision of skill-based training to the youth.
Special Assistant to Prime Minister on Youth Affairs Shaza Fatima Khawaja said the Pakistan Muslim League Nawaz (PMLN), in its every tenure, empowered the youth. She said since 2011, one million laptops had been distributed among talented students while over Rs100 billion worth of loans had also been provided to the youth to empower them. She said the prime minister would distribute 100,000 laptops among students in the days to come.
Meanwhile, the PM directed the authorities concerned for the early formulation of a comprehensive policy to do away with the smuggling of tyres and spare parts.
The prime minister, in a meeting with a delegation of Service Long March Tyres and Chaoyang Long March Tyres led by their Chairman Li Qingwen, also instructed the relevant authorities to take effective measures to curb the smuggling of tyres.
He told the delegation that being a time-tested friend, China always supported Pakistan like a brother in every hour of need. He also assured the delegation that the government would extend all possible support to the Chinese investors to facilitate their investment in Pakistan.