Pingree Joins New Agriculture and Nutrition Task Force As Food Security Programs Are Under Attack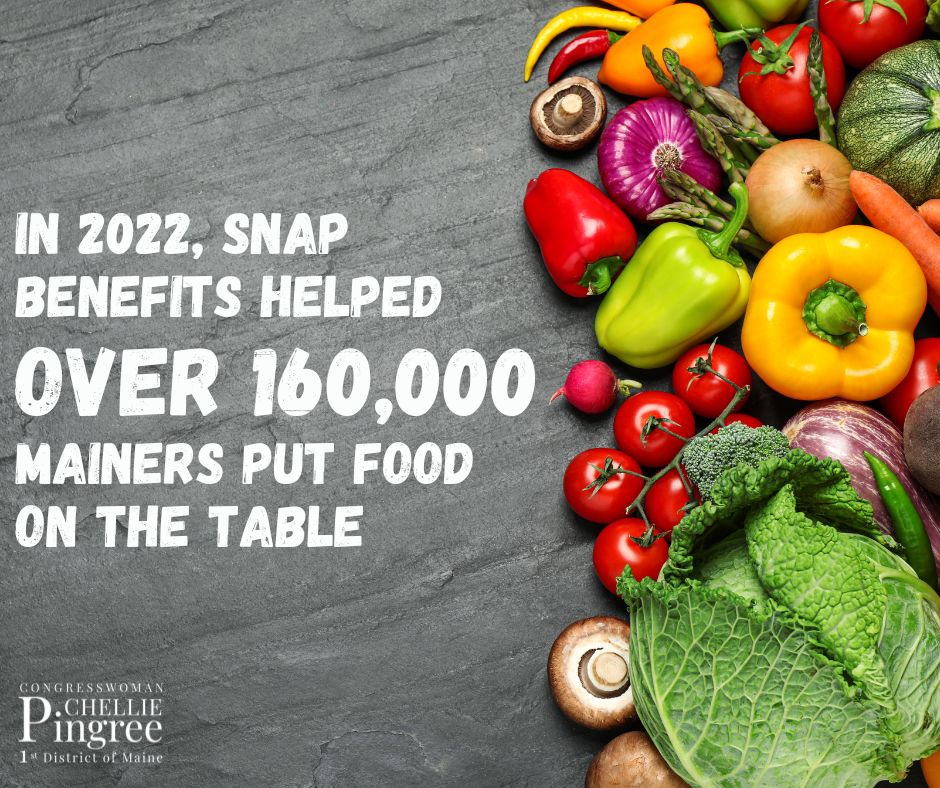 Congresswoman Chellie Pingree (D-Maine) has been appointed by House Minority Leader Hakeem Jeffries to the Task Force on Agriculture and Nutrition, which was created to defend important programs like the Supplemental Nutrition Assistance Program (SNAP), Special Supplemental Nutrition Program for Women, Infants, and Children (WIC), and Meals on Wheels against House Republican attacks.
"It's incomprehensible that Republicans are threatening to cut funding for crucial programs that help put food on the table while millions of Americans—many of whom are children—go without. According to Pingree, the Task Force on Agriculture and Nutrition is a crucial new line of defense to safeguard these initiatives from the cruel and destructive GOP attacks."It is a great honor for me to work with my Democratic colleagues from across the nation to support farmers and end hunger," she said.
No one in America should go hungry, in the richest nation in human history, declared Leader Jeffries."Unfortunately, hardline MAGA Republicans in the House continue to mercilessly assault crucial programs like SNAP, WIC, and Meals on Wheels that help feed the hungry among children and senior citizens in the country. This task force will help pave the path for a forceful response.Equally important, the task group will keep up its commitment to the farmers who supply our country with food. A crucial component of our economy, farm policy encompasses everything from crop insurance to commodities and commerce. We must make sure that our farmers have access to the tools they need to prosper in the twenty-first century.The newly appointed members represent almost every region of the country and have a variety of expertise in both agriculture and nutrition-related concerns. I appreciate Rep. Bennie Thompson agreeing to chair the task group and bringing his leadership skills and knowledge of policy to this crucial job.
Along with Chair Bennie Thompson (D-Miss.), Jim McGovern (D-Mass.), Mark Pocan (D-Wisc.), Lou Correa (D-Calif.), Sharice Davids (D-Kan.), Josh Harder (D-Calif.), Jahana Hayes (D-Conn.), and Kim Schrier (D-Wash.), Pingree will be a member of the task force.
Both the House Agriculture Committee and the House Appropriations Subcommittee on Agriculture are comprised of Pingree, a veteran farmer. Pingree has improved local and regional food systems during her time in Congress, assisting farmers and facilitating greater access to locally produced food for more people. By serving as co-chair of the bicameral House Congressional Food Recovery Caucus, she has pushed to offer farmers the resources they need to address climate change and decrease food waste in the United States. She has prioritized advocating for the preservation of food assistance programs like SNAP in the forthcoming Farm Bill.