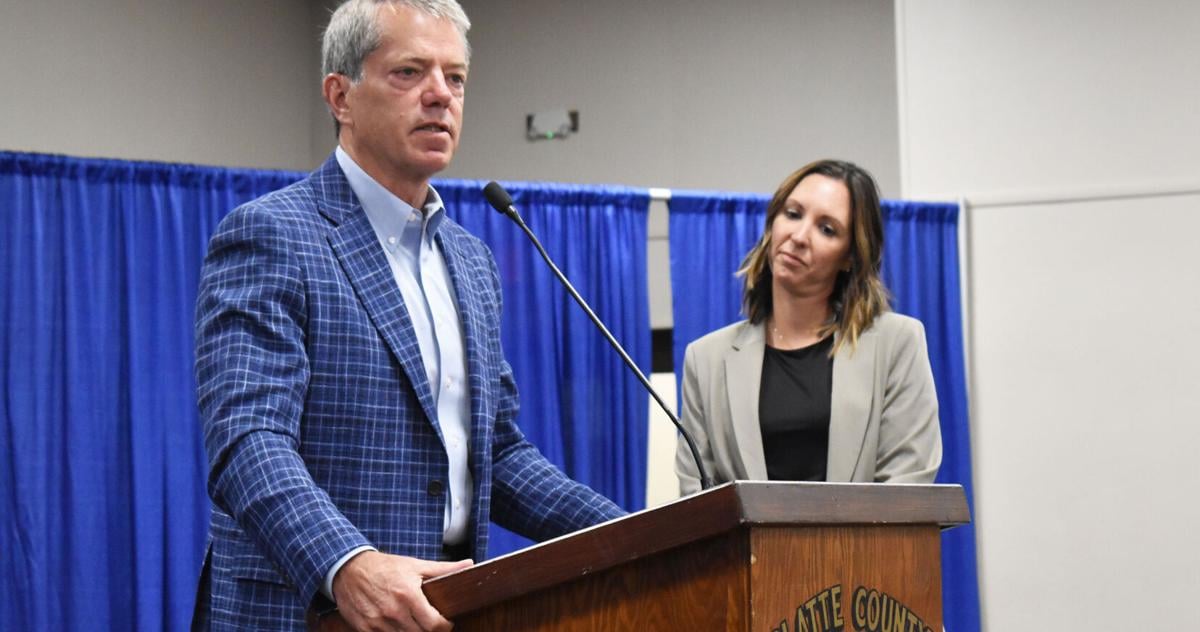 During the Columbus Area Chamber of Commerce Agribusiness Committee's businesspersons' breakfast held July 6 at Ag Park, attendees heard a number of updates on state news from Gov. Jim Pillen.
Of the topics discussed, Pillen noted the Education Future Fund, which appropriates $1 billion for school funding.
Nebraska had ranked 49 out of 50 states in state funding of education, Pillen said, and this fund will get Nebraska into the 25 range.
"We've invested a lot of excess money to move the state up to have the state more involved in educating our kids, and that's one of the challenges of why our property tax is so out of whack," Pillen said. "We made transformative change with that, and that doesn't solve all the property tax problems but it's certainly good stuff."
The Opportunity Scholarships Act would provide the change for low-income families to send their children to private and parochial schools. Passed by the Nebraska Legislature, $25 million a year is set aside in tax credits for those who donate to scholarship granting organizations. 
"We all know when there are kids in private schools in Columbus and if the fit isn't right for their child, where do they go? They go to the public school," Pillen said.
"Why is it that if a child is in a public school living in poverty, living in foster care or from a veteran, if that child is in a public school that's not the right fit, that we're opposed to having a tax credit for them to go to private school, and it takes no dollars from public education?"
Pillen also mentioned a measure for increasing state support for schools by $305 million was pushed through, adding Columbus will see an additional $2 million more than before the session started.
A bonding bill, introduced by Sen. Mike Moser, was approved as well. This will allow the Nebraska Department of Transportation (NDOT) to issue bonds to fund road improvements, especially the long-delayed Nebraska Expressway System.
Pillen signed an executive order earlier this year to establish a broadband office. Patrick Haggerty, the state's first broadband director, introduced himself at the breakfast.
Brand new Department of Economic Development (DED) Director K.C. Belitz, former chief operating officer of the Nebraska Community Foundation, said he's still learning the duties of his position but noted a focus of the DED will be "growing our own."
"That means building on the assets that we already have that starts with the team at DED," Belitz said. "…These are public servants. They're working hard for their fellow Nebraskans every day. And so we're going to build on that asset first, and then expanding that into building on the assets that Nebraska has economically."
He mentioned there are tremendous strengths in agriculture and noted the partnerships growing between the directors of state departments to help create better lives for Nebraskans.
He pointed to Columbus as an example.
"That that means companies like Behlen (Mfg. Co.) and all of the others who have grown up here in Columbus," he said. "We're the poster child for 'growing your own' in terms of industry and manufacturing."
Pillen added that a question he's often heard in the last two-and-a-half years is how Columbus is seeing all of its development.
"The answer is really simple: Columbus is a place where we all work together," Pillen said. "Nobody cares who gets credit. We just pull together whether it's the city, county, business – everybody just pulls together and gets it done."
NDOT Director Vicki Kramer also mentioned the bonding bill and that there is another 10 years of funding for the Build Nebraska Act.
Notably, Kramer mentioned the 23rd Street reconstruction project in Columbus, which extends from 31st Avenue to just east of East 11th Avenue.
It is being completed in three phases and will last three years.
"We've got the sewer work underneath that we're working with the city on so we've got to get through that," Kramer said. "It's a project that's not going to be completed until 2025. We're doing everything we possibly can to minimize impacts while still maintaining access to business."
Hannah Schrodt can be reached at hannah.schrodt@lee.net.