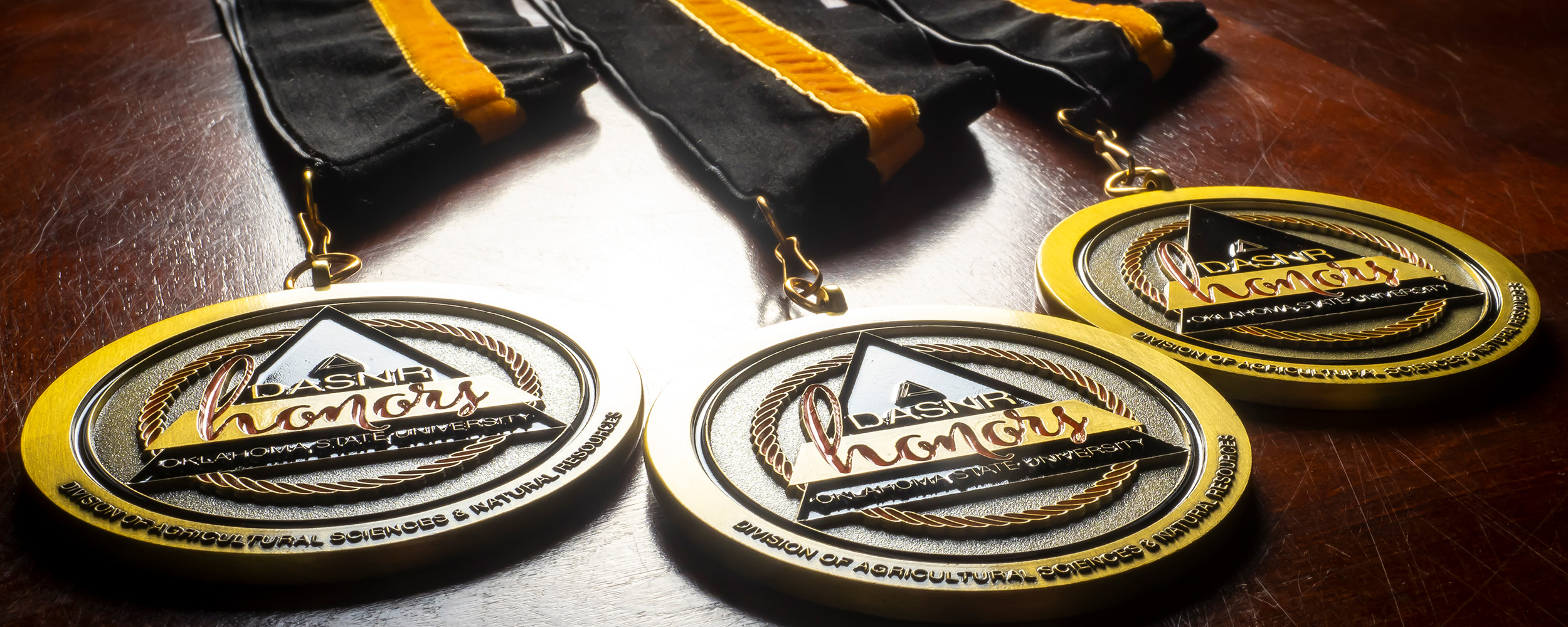 Monday, June 26, 2023
Media Contact:
Mandy Gross | Senior Manager of Strategic and VP Communications | 405-744-4063 | mandy.gross@okstate.edu
Oklahoma State University will honor six individuals who have brought distinctive
credit to the university's Ferguson College of Agriculture and contributed significantly to society.
Lionel Bentley (posthumously), Heather Buckmaster, Gary Clark, Andy Cole, Eddie Fields
and Terry Tippens have been named the 2023 Distinguished Alumni Award recipients.
The honorees will be officially recognized during the OSU Agriculture Honors ceremony
on Oct. 20.
"These individuals have had a tremendous impact on the Ferguson College of Agriculture
and made significant contributions through their careers and to their communities,
the state and the university," said Thomas G. Coon, vice president and dean of OSU Agriculture. "We are proud to honor this group of
alumni with such an esteemed award."
Established in 1983, the Distinguished Alumni Award recognizes individuals whose accomplishments
serve as a model for current and future Ferguson College of Agriculture students.
"As part of our land-grant mission, the Ferguson College of Agriculture takes pride
in developing ethical leaders who are committed to service," said Cynda Clary, associate dean for the Ferguson College of Agriculture. "Our honorees live out this
commitment every day through their words and actions. Our college and its students
are fortunate to have these significant role models as examples of impactful service
and excellence."
The OSU Division of Agricultural Sciences and Natural Resources is comprised of the Ferguson College of Agriculture and two state agencies: OSU Extension and OSU Ag Research.
Learn more about each honoree below or visit OSU Agriculture Honors online.
Lionel Bentley, Washington
The late Bentley graduated with a bachelor's degree in agronomy with a focus on turf
management from OSU in 1970. After serving in the Oklahoma National Guard from 1966
to 1972, Bentley began a career with the City of Norman, working first as an assistant
park superintendent, then as director of the Parks and Recreation Department.
While serving as director, Bentley assisted in creating the Park Land Dedication Ordinance,
requiring new residential development to allocate land for public parks. He also created
the Norman Park Foundation, a private nonprofit that supports the development and
improvement of public parks and recreation facilities in Norman.
Bentley retired from the City of Norman in 1984 to pursue the full-time operation
of Bentley Turf Farms, a progressive, full-service turf establishment and erosion
control company, which he owned and operated until his passing in 2022, the same year
the company celebrated 40 years.
Bentley was a great supporter of the OSU turfgrass program. He was known as a turfgrass sod pioneer in Oklahoma, offering customers U-3 bermudagrass,
Tifway bermudagrass and his own Gracemont bermudagrass. In addition to developing
his turf-type tall fescue sod, he also was one of the first in the state to offer
Meyer Zoysia grass and El Toro Zoysia grass.
Bentley served as president of the Oklahoma Recreation and Parks Society. He also
served as president of the Oklahoma Turfgrass Research Foundation in Norman and was
inducted into its Hall of Fame in November 2021. He was a board member for the National
Recreation and Park Association and the American Parks and Recreation Society.
As a director of the Norman Park Foundation, he made substantial private donations
used to fund projects, including Westwood Park Golf Course and the development of
Bentley Park. His work, dedication and support of public parks and recreation will benefit Oklahoma
for years to come.
Bentley's wife, Lou, will accept the posthumous award in his honor.
Heather Buckmaster, Oklahoma City
Buckmaster, a third-generation OSU graduate, grew up on a wheat and cattle farm in
Hydro. After receiving her bachelor's degree in agricultural economics with an emphasis on international business at OSU in 1991, she spent two years as
a Peace Corps volunteer and agriculture Extension agent in Gambia, West Africa.
She returned to OSU and graduated with her master's degree in agricultural economics
in 1996. Buckmaster then spent seven years as the director of marketing for the Colorado
Beef Council, where she was responsible for advertising, food service and retail promotions, producer
communications and sports marketing programs. Her efforts helped introduce new beef
cuts and heat-and-serve beef products to Colorado consumers through retailers, broad-line
distributors, steak purveyors and regional food service chains.
When the first case of bovine spongiform encephalopathy, a progressive neurological
disorder of cattle, was announced in the U.S., Buckmaster played a key role in managing
BSE crisis management activities in Colorado. 
In 2005, Buckmaster moved back to Oklahoma to become the executive director of the
Oklahoma Beef Council. She is well-known across the state by beef cattle producers
as a champion for the industry. She oversees Oklahoma beef checkoff investments in the international marketplace through
the U.S. Meat Export Federation and has coordinated international trade team tours
as well as traveled to Ghana and Angola for market development programs.   
Buckmaster led the successful launch of the Oklahoma Beef Quality Assurance certification
program in partnership with OSU and the Noble Research Institute. She also helped
create an initiative to integrate the Masters of Beef Advocacy program with Oklahoma
FFA to create the next generation of beef advocates. As a result, Oklahoma leads the
nation in beef advocacy graduates.
Gary Clark, Stillwater
Clark graduated with bachelor's and master's degrees in agricultural education from OSU in 1969 and 1972, respectively. He then went on to receive a Juris Doctor
from the University of Texas in 1975 with honors.
Clark was a member of the OSU/Oklahoma A&M Board of Regents from 1993 to 2001, serving
as chair from 1997 to 1998. He also served as vice president and general counsel for
the OSU Foundation from 2004 to 2008. From 2008 until his retirement in 2021, he worked
at OSU as senior vice president and general counsel.
Former OSU President Burns Hargis said no one is more "loyal and true" than Clark.
Through his leadership and support of OSU, Hargis describes Clark as the wise counsel
behind the scenes.
Clark continues to stay connected to his alma mater. Recently, Clark, a member of
Alpha Gamma Rho, joined others in the brotherhood to name a space in honor of the
fraternity in the New Frontiers building. The collective effort generated $267,000
toward the New Frontiers campaign goal to build a new facility for OSU Agriculture.
Andy Cole, Amarillo, Texas
Cole is an internationally recognized scientist whose contributions have impacted
the beef cattle industry and furthered the understanding of animal health and livestock-environment
interactions.
He received a bachelor's degree in agriculture with an animal science option and a
minor in biology from West Texas State University in 1971, followed by a master's
degree in animal science and a doctoral degree in animal nutrition with a minor in
biochemistry from OSU in 1973 and 1975, respectively.
During his time at OSU, Cole received a National Science Foundation Fellowship and
was named the OSU Outstanding Graduate Student in Animal Nutrition.
Following a one-year teaching appointment at Texas Tech University, Cole accepted
a position at the U.S. Department of Agriculture Agricultural Research Service Conservation
and Production Research Laboratory in Bushland, Texas, as a research animal nutritionist
in 1976. He was promoted many times before becoming laboratory director in 2011. Even
after retiring in 2015, Cole remains active in research around the U.S.
Cole supports students and programs in OSU's Department of Animal and Food Sciences. He created the Dr. N. Andy Cole Graduate Professional Development Scholarship in
Animal Science, a travel scholarship for graduate students in animal nutrition. He
also has committed to establishing the Dr. N. Andy Cole Endowed Professorship in Animal
Nutrition and funding a student huddle room in the New Frontiers Agricultural Hall.
Eddie Fields, Wynona
Fields, a third-generation rancher in Osage County, is involved in nearly every aspect
of the beef industry with a commercial cow/calf operation, a stocker yearling operation,
a backgrounding yard, a purebred show cattle operation and a direct-to-consumer beef
business.
Fields received a bachelor's degree in animal science from OSU in 1990. As president of Fields Ranch Inc. and Fields Land and Livestock
LLC, he has learned to value soil, water and natural resources on his family ranch.
His passion for agriculture led him to public office in the Oklahoma legislature.
Fields served in the Oklahoma State House of Representatives, representing District
36 from 2008 to 2010, and in the Oklahoma State Senate, representing District 10 from
2010 to 2018.
While in the Oklahoma legislature, he served as Senate assistant majority floor leader,
member and chair of the Senate Agriculture and Rural Development Committee, chair
of the Senate Rules Committee, and vice chair of the Senate Energy and Appropriations
committees. Fields also worked with OSU Ferguson College of Agriculture interns during
his time in office.
Fields used his agriculture and ranching experience for critical lawmaking decisions
and was a key advocate for funding OSU Extension and OSU Ag Research. He continues
to support OSU and agriculture in the state.
Terry Tippens, Edmond
Tippens graduated with a bachelor's degree in agricultural economics from OSU in 1968 and a Juris Doctor from the University of Oklahoma in 1971. Tippens,
of counsel at Fellers, Snider, Blankenship, Bailey and Tippens, has practiced law
for more than 52 years, trying some of the largest business cases in Oklahoma.
Super Lawyers named Tippens one of the top 10 trial lawyers in Oklahoma, and he was
recognized by Best Lawyers as the Bet-the-Company No. 1 Litigation Attorney in the
state. He was inducted into the International Society of Barristers, consisting of
top trial lawyers and barristers in the U.S. and Great Britain. 
Tippens' passion for agriculture continued throughout his career, and he often was
asked to represent OSU, donating more than $25,000 in gratis hours to the university.
Not only is Tippens a successful lawyer, but he also is known for his creative and
compelling agriculture literacy poetry, educating the public with the story of faith
and animal agriculture. In addition, his love of agriculture and ranching is evident
in the cow/calf operation he manages. 
While at OSU, Tippens was a member of Alpha Gamma Rho, Alpha Zeta and Omicron Delta
Kappa and has chosen to give back to the university that has benefited him so much.
Tippens is a major gift donor to the New Frontiers campaign and named the new agricultural economics department head office in memory
of a mentor and former department head, James Plaxico. Also, Tippens and his family
contribute to the Tippens Family Scholarship in OSU's Department of Agricultural Economics,
supporting students and advocating for agriculture.