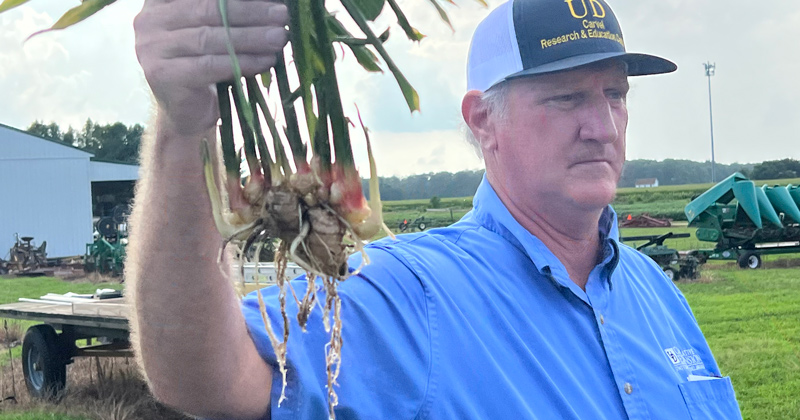 Gordon Johnson, who received the University of Delaware's Worrilow Award, worked, studied, taught, and advised in agriculture throughout the majority of his life.
Michele Walfred wrote the article
Photos by Gordon Johnson, Michele Walfred, Katie Young, and Maria Errico
May 25, 2023
Gordon Johnson caps incredible career in agricultural science
Friends and coworkers of Gordon Johnson, a Cooperative Extension fruit and vegetable specialist and assistant professor in the Department of Plant and Soil Sciences, gathered at the Harvest Ridge Winery in Marydel to commemorate Johnson's three decades of service to Delaware agriculture and his impending retirement. In the midst of acres of vineyard grapes that Johnson helps to maintain in good health, tributes to his illustrious and varied professional career flowed.
Guests discovered they had another cause to celebrate as they engaged in talks and drank wine. The University of Delaware's Worrilow Award, a prominent accolade for former students of the College of Agriculture and Natural Resources (CANR), was announced as Johnson's prize for 2023.
The prize, which is named in honor of former CANR dean and UD visionary George M. Worrilow, was formally given to Johnson in May during a CANR awards event.
At the prestigious Worrilow Award ceremony for the College of Agriculture and Natural Resources in May 2023, Bob Mulrooney (left), retired extension plant pathologist and Worrilow honoree (2008), posed with Gordon Johnson (center) and Interim Dean Calvin Keeler (right) as the nomination committee's representative.
Johnson worked before he graduated, in contrast to Blue Hen grads who stay at UD for entire careers. At the age of 54, Johnson earned his PhD in 2011. His excellent journey of personal development, servant leadership, and interest in all things agricultural culminated in the capstone achievement.
Johnson was raised in agriculture from birth.
Johnson's father, the youngest of four children, managed a modest 180-acre dairy farm south of Gettysburg, Pennsylvania. His mother, a 40-year veteran of the Mt. Joy 4-H club, made sure her youngest kid was actively involved in what is still the nation's biggest youth development program.
Regarding his nine years in 4-H, Johnson remarked, "Anything I could do in that program, I did." I "pretty much did all the typical agriculture-related ones" — projects in soil conservation, carpentry, gardening, and veggies and field crops.
Gordon Johnson joins the growers who are inspecting the lima beans. Field trips and research presentations are important methods of reaching out to regional growers.
Johnson took advantage of competitions and instruction in public speaking and demonstration—valuable life skills that he subsequently counted on. He assumed civic and leadership responsibilities, represented Pennsylvania in the National 4-H Congress, and attended the National 4-H Conference as a delegate.
Johnson has involved in both local and international FFA. He still enjoys surprising acquaintances with his participation in the National FFA Convention. The contestant with the talent for agriculture was chosen to represent his state and won. Not for combines, cows, or corn. For the trombone, that is. One of two Pennsylvanians chosen for the FFA's national band was Johnson.
Johnson became more involved on the family farm after his father died away when he was 14 years old. He worked as a full-time farmer for three years after graduating from high school before going to college. It was important to be close by, and the University of Maryland provided a manageable commute. Johnson got up at 4 am and spent two hours milking 45 cows. After spending two hours getting to College Park, Maryland for his lessons, he returned home to do the second round of cow milking. That difficult commute was only endured for one semester.
Johnson said, "I told myself, 'The heck with the cows.
A newspaper article from the 1970s reveals Gordon Johnson's high school senior achievements in the national 4-H program.
He relocated to university, joined an agricultural fraternity, and earned his agronomy degree in three years, cum laude.
After graduating from college, Johnson joined the Peace Corps. His journey carried him to the Republic of Seychelles, 8,600 kilometers distant. The tropical archipelago of 100 tiny islands is located in the Indian Ocean, 900 miles off the coast of Africa.
Johnson stated, "We were agriculture officers. It essentially functioned as an extension system. My career in extensions began there.
During his two years of service, he was exposed to tropical fruits and vegetables, improved his French Creole, met Yacintha, and learned the language.
After moving back to the United States, Johnson completed a master's degree program in horticulture and vegetable crops at Clemson University, got married, and then went back to the Seychelles to teach high school agriculture for three years at Seychelles Polytechnic. Johnson, one of the taller instructors, taught basketball and put together a team of novice players.
Johnson came back to the United States in 1987 and began working as a research technician in a biotechnology company where he investigated endophytes, tiny organisms that live inside plants, and how they may provide crops with goods. He was given the title of senior scientist and, until 1993, he developed and oversaw a research farm on Maryland's Eastern Shore.
In Kent County, Johnson started his UD career with Cooperative Extension in 1994 as a horticulture and specialty crop agent. In 1997, he was promoted to county agricultural agent, and in 1999, he was hired as the dairy agent due to his previous expertise in the dairy industry. Johnson solidified his writing love at this time, becoming one of the first extension agents to write on horticulture and commercial agriculture, a popular source for producers.
While serving in the Peace Corps in the Republic of Seychelles, an island nation in the Indian Ocean, Gordon Johnson taught agriculture. Johnson participated in the Peace Corps for a total of five years.
Johnson's extension duties increased, as his 72-page Worrilow Award submission letter reveals. His natural curiosity and life lessons make him the ideal candidate to create and implement fresh concepts, projects, and initiatives. What, in retrospect, did he not teach? Johnson offered quick classes on garden ornaments. He organized workshops on the cultivation of fruits and vegetables and started the Kent County master's series for field crops. Johnson created courses in business management, entrepreneurship, organic farming, dairy recordkeeping, and agritourism. He oversaw the team that created Delaware's Nutrient Management Program and started a statewide campaign to educate people about the safety of produce. Pages and pages of his writings, speeches, and programs attest to his wide-ranging contributions to Delaware agriculture.
Johnson obtained a PhD in plant sciences from the University of Delaware in 2011 while working as an agricultural agent. His research on pad soils looked at the soil underneath ancient henhouses and how to utilise such area again for farming. Johnson calculated there were 2,400 abandoned chicken buildings in the area at the time. Nothing would grow in soil that had salts added to it from ammonium, nitrate, and potassium buildup.
In our joint effort, Johnson remarked, "We could grind up the entire chicken house and utilize it to remediate the land. I came up with this notion to tie up the nitrogen salts by adding wood products, sawdust, or wood chips.
Gordon Johnson displays a watermelon with a hollow heart.
After that, where the old poultry buildings had formerly been, salt-tolerant vegetation thrived for two to three years. Johnson's study served as the foundation for a national conservation standard for the U.S. Department of Agriculture Natural Resources Conservation Service as well as cost-sharing funds for landowners because restoration is a time-consuming and expensive procedure for farms.
While juggling a hard profession and pursuing a degree at the same time was difficult, Johnson was driven and had role models to look up to.
Susan Barton, who won the 2022 Worrilow Award, served as one of Johnson's inspirations because she also finished her PhD while working in Extension. When I began my PhD in plant science, I was a much more senior student employed by UD Cooperative Extension. This gave my job at UD new life.
At a session on fruits and vegetables, Gordon Johnson gave a presentation about his research on wine grapes.
Johnson joined the Department of Plant and Soil Sciences' faculty and was appointed as the department's extension expert for fruits and vegetables in 2010. He served as the Fruit and Vegetable Growers Association of Delaware's liaison and advisor. Johnson oversaw specialized training with a focus on the security of produce. On vegetable, fruit, and speciality horticulture crops, he did practical research.
Johnson started his groundbreaking investigation into what causes watermelons to have hollow hearts in the same year. His findings revealed that incorrect pollination is a key contributor to the fruit deformity.
Johnson is a self-described writing maniac. He has published around 140 pieces for The Delmarva Farmer as a monthly contributor. His prodigious knowledge covered the pages of the Weekly Crop Update for 27 weeks out of the year, filling a gap in vegetable horticultural writing.
More than 50 projects were written and administered by Johnson, many of which were specialized programs that looked at alternative crops for nearby farmers and suggested ways to lengthen their growing season. Johnson instructed UD students in PLSC 145, Introduction to Sustainable Food Systems, and PLSC 302, Vegetable Science, respectively. Three of the more than 20 graduate and undergraduate students for whom Johnson served as an advisor were interested in a career in cooperative extension.
In the year 2022, Gordon Johnson is holding a research poster while Shem Elias, one of his graduate students, explains his results on the development of baby ginger.
Numerous accolades have been bestowed to Johnson over his career. UD's 2023 Worrilow Award has just been added to that outstanding list.
Johnson remarked, "I was astonished and grateful for the nomination by my alumni peers.
He gives praise to his coworkers and past Worrilow awardees Derby Walker, Ed Kee, Bob Mulrooney, Joanne Whalen, and other veteran extension agents and experts who acted as mentors and role models.
Johnson anticipates producing peaches on a four-acre orchard on his modest farm in Denton, Maryland, writing articles for the agricultural literature, and continuing to instruct and motivate students after retiring. He'll schedule some travel as well, potentially including a return trip to the Republic of Seychelles. Johnson just got back from Tanzania, where he went to see Shem Elias, one of his most recent graduate students, and helped him raise baby ginger.
There is little question that Gordon Johnson's retirement will be intentional among his friends, family, and coworkers. Johnson's life narrative and professional accomplishments serve as a living example of the Cooperative Extension philosophy, "extending knowledge and changing lives."
"The key," according to Johnson, "has been a dedication to a life of service to the agricultural community—broadly defined—in the state, regionally, and nationally, as well as to represent the University of Delaware College of Agriculture and Natural Resources in the best light and take the resources that CANR and the broader University offer to the community."
One of the numerous speciality crops Gordon Johnson researched and suggested as an option for Delaware producers, he studies an onion.