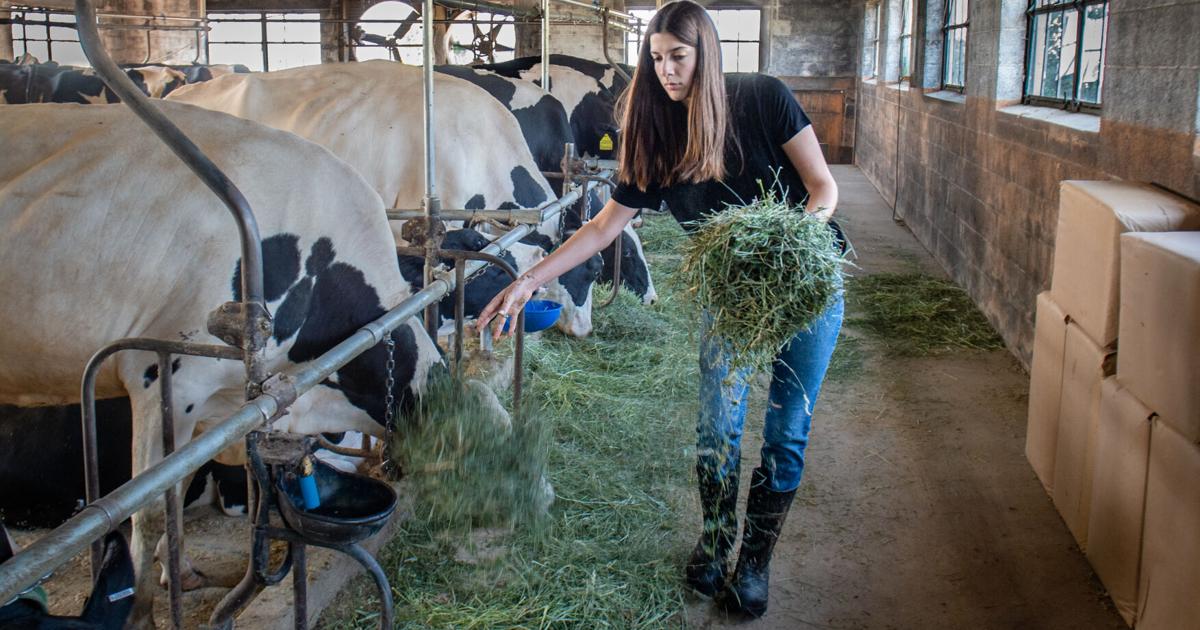 Jess Herr is a fifth-generation farmer who grew up watching her mother work alongside her father as they handpicked tobacco each summer on Southview Farms in West Lampeter Township. Now Herr is the first woman to represent Pennsylvania as a national FFA officer and one of many young women who are redefining the face of agriculture. 
"We're watching our world change," Herr said, "and we're watching our industry, specifically, change."
That change is reflected in the growing number of women in agriculture's work and training spaces. 
The number of agriculture educators nationwide flipped majority female for the first time in 2020, according to the National Association of Agriculture Educators. Female farm producers increased 27% nationwide and nearly 18% in Lancaster County between 2012 and 2017, the most recent year of data from the National Agricultural Statistics Service's five-year census.  (NASS defines "producer" as a person involved in making decisions for farm operation.) 
There is a relationship between the workforce and educator statistics.
Many young women who are now farming, or who have taken on other jobs in the agriculture field, found important female mentors in the classroom. 
Herr had two female agriculture teachers at Lampeter-Strasburg High School. Now she sits on a national FFA board that is more than half female and attends board meetings where officers discuss the fact that more than half of all agriculture education teachers nationwide are also female. 
"If we want to get people – specifically young women – interested in agriculture, the best way to go about that is by walking alongside them and mentoring them and sharing our lived experiences," Herr said, "but also creating a space for them to create their own experiences and try new things."
That mentoring and role modeling by women for women is likely to continue to rise in the education and training ranks for some time to come. Seventy-five percent of agricultural education graduates in 2022 were female, said Ashley Rogers, NAAE program manager for teacher recruitment and retention.
Pennsylvania has had more female agricultural educators than male agricultural educators since at least 2015, according to NAAE, and Morgan Bear is set to join those ranks. She graduated this year from Penn State with a degree in agricultural and extension education and will take a job this fall in the Cumberland Valley School District. 
"I could have picked a fancier career," Bear said, "but at the end of the day, there's to me not a more rewarding career than just being an ag teacher."

Like Bear, Herr loves working with youth. As a national FFA officer, Herr is spending a year touring the country. In spring 2024 she'll be back at Penn State University where she is studying agricultural and extension education with a minor in leadership development.
 But Herr said her real dream is to open her own coffee shop and cut flower farm in her hometown. 
"FFA has given me the tools and the skills to be able to dream big," Herr said, "But also have a business mindset and a business plan behind some of those big dreams."
---
More local news:

Distribution of farmers' market nutrition program vouchers kicks-off

New Millersville University radar to fill gaps in county weather reporting
---
New leaders, new perspectives
Jodi Gauker didn't grow up on a farm. Her husband, Lee, is a ninth-generation farmer, but she's worked to become the face of Gauker Farms' operations in Fleetwood, Berks County. 
On their 270-acre farm, Gauker says her husband is in charge of the crops, her father-in-law raises 90 head of steer, and she sells the beef to restaurants, farmer's markets and farm stands. 
"People look at me, and they don't often consider me the farmer," Gauker said. "But then – so my beef customers definitely refer to me as their beef lady or their beef farmer, because I'm the face at the markets, and in our house we call it division of labor and it's how we stay married."
Gauker has taken on additional leadership roles outside her farm, volunteering for the Berks Agricultural Resource Network and the Pennsylvania Beef Council. At the resource network she's helped create marketing opportunities for local farmers, and at the beef council she helps administer state funds from beef sales. 
After earning her master's degree in agricultural education from Texas A&M in 2008, Gauker worked for the Penn State extension and became a 4-H leader. She said she wanted to pursue leadership roles in her community in order to be a role model to the next generation of farmers. 
"I was sick of the old white man club, OWMs as I call them," Gauker said, "but the thing that I should probably say is I knew that young leaders didn't have someone to look at to say, hey, I could be like them."
Gauker is familiar with the feeling of being an outsider. 
"We laugh a lot because we live in Pennsylvania Dutch country, right? And I'm not Pennsylvania Dutch," Gauker said, "so the line they use a lot is: well, you're not Dutch, so you're not much." 
She said traditional farmers are slowly realizing that the old system of handshake agreements has given way to a regulatory system that is much more difficult to navigate. 
"There's this thought that this is the way it's always been done," Gauker said, "and nothing right now can be done the way it's always been done."
---
More agriculture news: 

Vegetable crops thriving as dry conditions threaten feed crops

Lancaster Farmland Trust reaches 35,000 preserved acres on 35th anniversary
---
Veterans report expanded opportunities
Cheryl Cook remembers standing on a Harrisburg street corner in February waiting for a man to let her into the Tuesday Club so she could attend a meeting for the Pennsylvania Farmers Union. 
This was the 1980s, and the long-time lobbyist who organized the union's annual discussion of the Pennsylvania Department of Agriculture's budget did not seem to care that his chosen meeting place only allowed women inside if they were the guest of a man. 
Now Cook is the deputy secretary for strategic initiatives and market development for the department she used to lobby. In addition to various state-level jobs, she served in the Clinton and Obama administrations at the U.S. Department of Agriculture. Her decades-long career has made her an expert on farm credit issues and a staunch advocate for family farms. 
"I won't say, 'You've come a long way, baby' — because why are they calling us baby?" Cook said. "But it feels like some progress has been made, and I've been there to witness it since I started."
Lisa Graybeal, a third-generation dairy farmer in Peach Bottom who serves alongside Cook as Pennsylvania's deputy secretary for animal health and food safety, emphasized that women have always been present in agriculture. The trend Graybeal sees is a growing awareness of non-farming jobs. 
"There are so many other jobs related to agriculture," Graybeal said, "and I think, now, the difference is just women are becoming more out there."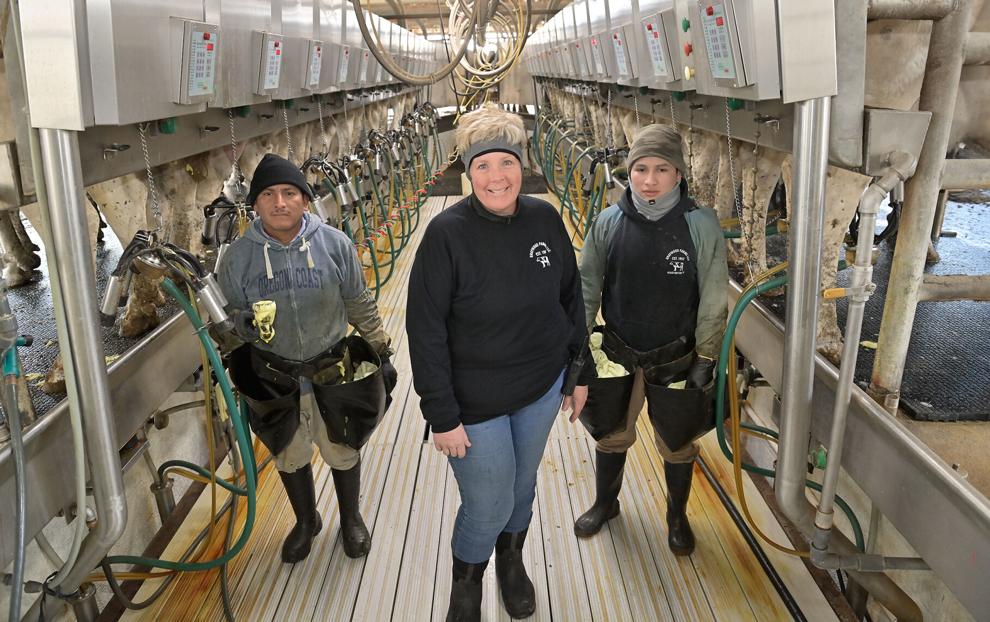 Cook said many women are turning to the entrepreneurial side of the business in order to supplement income from their family farms. She sees women forming farming cooperatives, running direct marketing efforts and expanding into agritourism. 
"Maybe it's a necessity that more women are getting involved and keeping the whole farm operation afloat," Cook said. 
College opens doors
Higher ed agricultural programs are working to emphasize the breadth of careers available to graduates.
Bob Mikesell, undergraduate coordinator within the animal science program at Penn State, said 80% of undergraduates enter the program thinking they are headed to veterinary school, but at most 10% actually follow that path.
"We see a pretty big swing in career goals," Mikesell said.
Over the past 50 years, the animal science program has added a strong concentration of content from fields like biochemistry and organic chemistry that prepares graduates for the increasingly technical world of agriculture, Mikesell said. 
Female students are undaunted by that challenge. Across the last seven semesters, Mikesell reports that 203 of the 238 animal science graduates were women. 
While majors such as animal science and veterinary and biomedical sciences skew female, other majors in the Penn State College of Agricultural Sciences — such as landscape, turf, biological engineering, and forestry — skew male. 
Across all majors, enrollment data from the fall 2018 semester to the fall 2022 semester shows that women filled slightly more than 50% of all undergraduate positions in the college. 
Internships are the key to finding out how that college coursework translates into a career, said Taylor Wolfe, who graduated from Penn State in December 2020 with a major in animal science and a minor in agriculture business.
Wolfe grew up on a farm in Northumberland County that milked 400 cows daily. She interned at a dairy in New York that milked 3,500 cows daily. That breadth of experience helped Wolfe land a job as a sales representative for DBC Ag Products, which is headquartered in Lancaster city.
Wolfe travels across the northeast – her sales region stretches from West Virginia to Maine – selling products that help maintain cows' digestive health. She always appreciates the chance to get on a farm and share her personal story. 
"It's almost like a connection was formed there instantly when they know that I was raised in the industry and I'm familiar with it," Wolfe said. 
Heidi Reed also combined an agricultural background with higher ed experience to build her career. Reed grew up on a hobby farm in the northern end of Lancaster County and went on to earn a Ph.D. in agronomy from Penn State in 2018.
Reed now teaches adult education classes through the Penn State Extension in York County, and she said her farmer audience is nearly 100 percent male. 
"Communicating in a room full of men, being one of the only women, you just get used to it after a while," Reed said. "There's always some passing comments that you let roll off your back, and I would say I have more of an issue with not having grown up on a production farm and not being like part of the farming community than I do with being a woman."
Both Wolfe and Reed said it's more common for their age to become an issue than their gender. 
"It's not like someone's asking me to go, you know, drive their tractor around for them to prove that I can do my job or something like that," Reed said. "It's just being a consistent and accurate resource for whatever questions that they have."