Jesse Allen to change into new host of Agriculture of America; Mike Pearson leaving to take over function for Farm Progress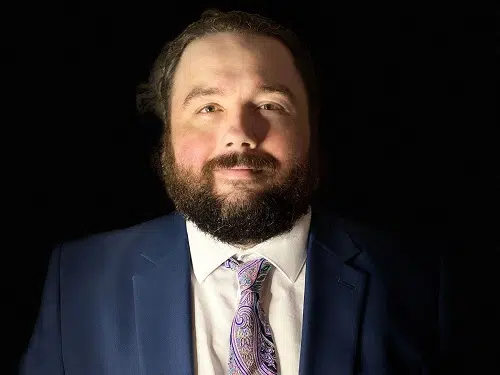 At the end of the month (July 31, 2023), American Ag Network Farm and Ranch Director and Market Talk host Jesse Allen will be taking over the Agriculture of America (AOA) program as well.
AOA, originally hosted by longtime farm broadcaster Mike Adams and followed by Mike Pearson, can be heard weekdays on over 40 radio stations nationwide along with replays on Rural Radio 147 on SiriusXM. The hour-long program focuses on conversations surrounding agriculture, farm policy, markets, ag weather and issues that impact rural America.
Allen, who currently hosts the hour-long radio show and podcast Market Talk, will continue to host that program every weekday afternoon. He will also continue content oversight of the American Ag Network's on-air and digital products and maintain a broadcast presence on the network for the foreseeable future.
Born and raised in a small North Central Iowa farming community, Allen has grown up around agriculture in rural America and brings that knowledge and passion for farming and ranching to the AOA program.
"I'm extremely excited about this opportunity to continue the daily conversation about agriculture on AOA," says Allen. "Thinking about where my radio career started and how it has evolved; I never actually thought I would be leading a well-respected, well-known nationally syndicated program one day even though it was always a dream of mine. I'm extremely grateful for this opportunity."
"At the end of the day, I have a passion for sharing agriculture's story," says Allen. "My role is not only to keep farmers and ranchers informed to the best of my ability, but to also, hopefully, keep the general public informed and engaged as well. I look forward to doing that every day on AOA."
Breck Von Bank, SVP/General Manager for AOA and American Ag Network says, "With Jesse's proven success on the American Ag Network and Market Talk, he was the natural successor for the AOA program. Jesse is smart, knowledgeable and a talented interviewer and we are excited for him to take over AOA."
Agriculture of America and American Ag Network owner Lance Knudson commented on the move saying, "We are very excited at Agriculture of America (AOA) to announce Jesse Allen as the new host. With his unmatched experience and dedication to agriculture, marketing and broadcasting, Jesse will shape the show for the future."
Current AOA host Mike Pearson is leaving to take over the "This Week in Agribusiness" and "Farm Progress America" programs after the retirement of long-time co-host Max Armstrong. Armstrong isn't leaving farm broadcasting completely as he will continue with "Max's Tractor Shed" and occasional special segments on his former show.
You can find your local radio station or listen on demand by visiting www.agricultureofamerica.com and follow the show on Facebook, Instagram and Twitter.
Knudson and his wife Tami also own the DRG Media Group radio stations in Pierre and Mobridge.