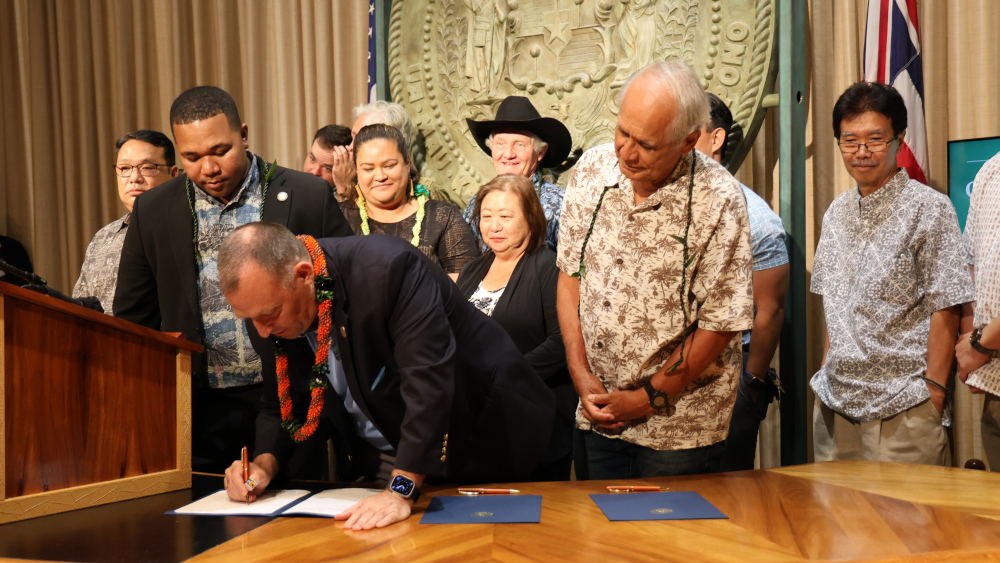 (BIVN) – Several new agricultural bills signed into law on Wednesday will secure infrastructure, remove farming barriers, and strengthen pesticide enforcement, the State says.
Governor Josh Green, M.D., enacted the laws in a ceremony held on Oʻahu.
"Hawaiʻi has more than 1.1 million acres of farmland, with people who do back-breaking work to feed all of us, while trying to earn a living," said Governor Green. "Despite this work by generations of farm families, we import around 85 percent of the food we eat. I want to bring that percentage down, way down, to improve our food security. To do that, we have to support local agriculture and make farming easier and less costly for the whole industry."
The signed bills are:
SB833 SD2 HD3 CD1, (Act 218) Relating to the Wahiawā Irrigation System
Requires the Office of the Governor to negotiate the state's fee simple acquisition of the Wahiawā Irrigation System on the island of Oʻahu. Authorizes and appropriates funds for the Department of Agriculture, Agribusiness Development Corporation, and Department of Land and Natural Resources to purchase, repair, and maintain the Wahiawā Irrigation System and the associated spillway. (CD1)
HB615 HD1 SD1, (Act 219) Restrictions on agricultural uses and activities
Clarifies that any provision in a private agreement contained in a conveyance of land recorded on or before July 8, 2003, that has since expired but has not been renewed and recorded in the bureau of conveyances, is prohibited from restricting bona fide agricultural uses and activities on agricultural land. (SD1)
HB692 HD1 SD1 CD1, (Act 220) Relating to Pesticides
Increases the maximum administrative and criminal penalties for violators of the Hawaiʻi pesticides law. (CD1)
SB746 SD1 HD2 CD1, (Act 211) Relating to Coffee Labeling 
Expands the coffee labeling and advertising requirements to include ready-to-drink coffee beverages and the inner packages and inner wrapping labels of roasted coffee, instant coffee, and ready-to-drink coffee beverages. Specifies that the coffee labeling and advertising requirements apply if the applicable products are produced in whole or in part from Hawaiʻi-grown and Hawaii-processed green coffee beans. Requires disclosure on the label of coffee blends of the respective geographic and regional origins and percent by weight of the blended coffees. Prohibits use of the term "All Hawaiian" in labeling or advertising for roasted coffee or instant coffee not produced entirely from green coffee beans grown and processed in Hawaiʻi. Effective 7/1/2024. (CD1)
SB1588 SD2 HD2 CD1, (Act 212) Relating to Feed Safety
Appropriates funds to the Department of Agriculture to establish and implement a GroupGAP food safety training and certification program. (CD1)
HB307 HD1 SD1 CD1, (Act 213) Relating to Agricultural Park Leases
Allows the Department of Agriculture to extend the agricultural park lease of any lessee who holds a lease with a remaining term of fifteen years or less, if the land covered by the lease is 25 acres or less and located in a county with a population of less than five hundred thousand. (CD1)
HB695 HD2 SD1 CD1, (Act 214) Relating to Fences 
Allows the use of battery-charged security fences used for non-agricultural purposes, under certain circumstances. (CD1)
HB972 HD1 SD1 CD1, (Act 215) Relating to Animal Industry Special Fund 
Adds revenue generated by the State Veterinary Laboratory and Animal Disease Control Branch as sources for the Animal Industry Special Fund and clarifies that the funds from the special fund may be expended to make laboratory improvements. (CD1)
SB743 SD1 HD1 CD1, (Act 216) Relating to Coffee Pest Control
Extends the sunset date for the Coffee Berry Borer and Coffee Leaf Rust Pesticide Subsidy Program to June 30, 2025; and the program manager position, including the position's civil service and collective bargaining laws exemption, to June 30, 2026. Requires the Department of Agriculture to report to the Legislature. Appropriates funds for the operation and implementation of the Pesticide Subsidy Program. (CD1)
SB1552 SD2 HD1 CD1, (Act 217) Relating to Invasive Species
Appropriates funds to the Department of Land and Natural Resources to support the Hawaiʻi Ant Lab in mitigating the effects of little fire ants in the state. (CD1)
A state news release added:
"The bills being signed today expand the role of agriculture across our islands, which also will enhance farmers' resiliency and ability to fully use their agriculturally zoned lands to produce both food- and non-food commodities, without barriers resulting from expired restrictions," Governor Green said.

"Very importantly, relating to agriculture, public health, the environment, and the safety of present and future generations, we're signing a bill today that supports enforcement of our pesticide laws and increases monetary fines for violations," he said.

Senator Mike Gabbard is encouraged by the impact the bills signed today will have, for agriculture now and into the future. "Giving funding to the Hawai'i Ant Lab and Hawai'i GroupGap, will provide critical support to prevent further spread of Little Fire Ants, and protect residents and visitors from foodborne illnesses, respectively," said Senator Mike Gabbard (Senate District 21, Kapolei, Makakilo, Kalaeloa, portions of Fernandez Village, and 'Ewa), chair of the Senate Committee on Agriculture and Environment. "SB833 allows the state to take ownership and responsibility of the Wahiawā irrigation system, WahiawāDam and Lake Wilson Reservoir, and the associated spillway. Given the many vital uses of these places, it's necessary for the State to take control, because if not, who knows who the buyer would be, and what it would be used for in the future."

"We are definitely very excited about making sure that people who are using pesticides are doing it responsibly, and doing it in a safe way that protects our community," said Representative Cedric Gates, chair of the House Committee on Agriculture and Food Systems (District 45 Wai'anae, Mākaha). "I worked with the Ag Department very closely to make sure we increased the fines, to go after repeat-offenders who think they can pollute our communities without any consequences. I think that it was a good year for ag and there are a lot of exciting things coming out of the industry. We really want to support our local farmers."

Hawaiʻi Farm Bureau Executive Director Brian Miyamoto said the bureau is very pleased with the many positive measures passed to help Hawaiʻi's farmers and ranchers during thelegislative session, noting the high level of support from Governor Green and his Administration.

"We applaud Governor Green and the legislature for their leadership and support for Hawaiʻi's farmers and ranchers through the signing of these bills today. The Governor signed bills that will help increase the viability and success of our farmers and ranchers through support for agricultural land use policy, irrigation infrastructure funding, controlling invasive species, food safety regulation, resources for the Department of Agriculture, and protecting one of Hawaiʻi's iconic crops, coffee," Miyamoto said.