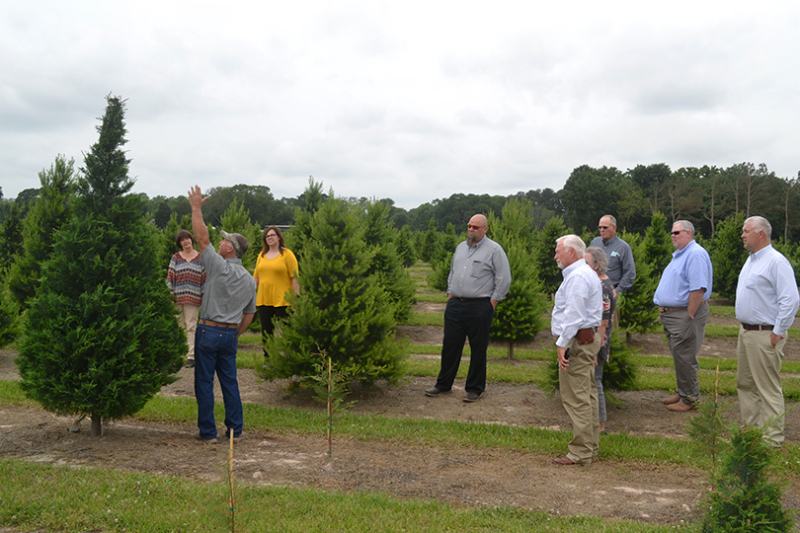 By Julie Tomascik
Editor
Agriculture continues to face new and unique challenges, but strong, proven leaders can help ensure agriculture has a viable future.
Texas Farm Bureau (TFB) can help develop those leaders through the AgLead program and is now accepting applications for the AgLead XVI cohort.
AgLead is the organization's premier leadership program. The two-year program takes members across the state, country and the world to discover agriculture and leadership from a new perspective. AgLead members develop a variety of skills—leadership, communication, public policy, regulatory, advocacy and more.
"Advocating for agriculture has become a necessity for farmers and ranchers. Most Texans are so far removed from the farm that they don't understand how legislation and regulation affects agriculture," said Roger Hall, associate director of Organization Division, Leader Development. "AgLead prepares participants for those conversations from the county level to the Capitol steps."
A maximum of 12 participants will be selected for the AgLead XVI program. Applicants must be 25 or older as of Dec. 31 in order to apply.
Program sessions
Through AgLead, participants get to visit some of the nation's most diversified and innovative agricultural operations, processors, packaging facilities and marketers.
Participants meet with industry experts and business and government leaders, as well as strengthen personal skills.
"The program invests hours of intensive training through seminars, speakers and travel over the two-year program," Hall said. "Participants will get the tools needed to help cultivate true Texas agricultural leadership."
AgLead XVI tentative sessions include a visit to the TFB headquarters in Waco to focus on communication, leadership and technology.
A trip to South Texas and the Rio Grande Valley will highlight water, border and immigration issues, the Texas political process and international trade.
Participants will dive into emerging issues affecting agriculture and will travel to a location to further discuss those specific issues.
On the Southeast Texas tour stop, AgLead participants will learn about local agriculture and trade. They will also participate in a service project and practice presentation skills.
The Washington, D.C. session will focus on national government, priority issues, agricultural advocacy and a visit to an international embassy.
A capstone session will conclude the program, exposing participants to production agriculture, infrastructure and trade in either a domestic or foreign location.
The cohort will be recognized in a graduation ceremony during the TFB Annual Meeting in 2025.
Program value
The program brings together farmers and ranchers from various backgrounds, ages and agricultural experiences.
"Leadership, communication, interpersonal skills, coalition building and tackling issues are all necessary skills for farmers and ranchers today. AgLead enhances these traits and more," Hall said. "This program opens doors and trains participants for seats at tables where agriculture's voice is needed."
Current and previous program participants note AgLead helped strengthen their leadership skills and expand their agricultural knowledge.
Application details
Applications and supporting documents must be submitted by Aug. 31.
For the application, costs and more information on the program, visit texasfarmbureau.org/aglead.