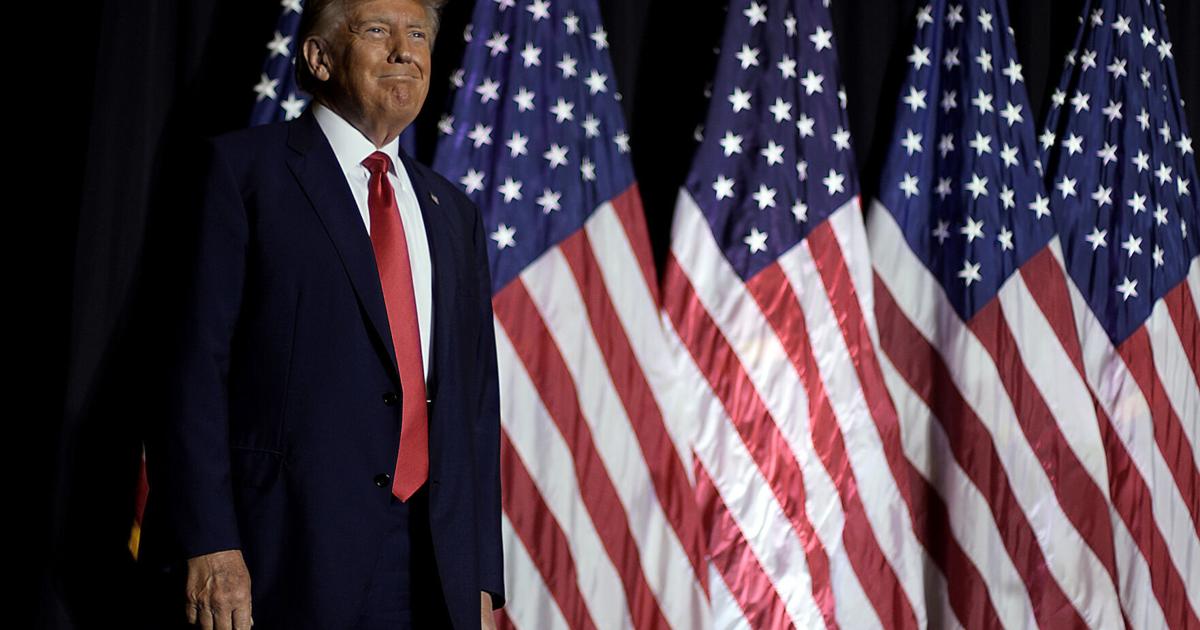 Former President Donald Trump hammered Florida Gov. Ron DeSantis on agriculture during a Friday campaign trip to Council Bluffs.
The event, held at the Mid-America Center, coincided with the launch of the former president's "Farmers for Trump" initiative, posters for which were visible on every wall.
After a 28-minute delay, Trump made his usual entrance to "Proud to Be an American" while throwing Farmers for Trump hats into the crowd.
Calling DeSantis "Ron DeSanctimonious" throughout the speech, Trump slammed his rival Republican candidate for votes to restrict the production of ethanol, trying to appeal to the farmers in the room.
Trump proceeded to laud his own controversial policy of imposing heavy tariffs on China during 2018, saying the revenues were used to help farmers in the U.S. However, Forbes and the Wall Street Journal, among others, have reported the payouts merely offset losses by farmers due to those tariffs.
"I'm proud to be the most pro-farmer president that you've ever had," Trump said at the outset of the event. "I fought for Iowa ethanol like no president in history."
The Council Bluffs campaign stop aimed to promote his administration's agricultural record and touting his oversight of clawbacks of regulations on farmers.
Trump said he was the only reason DeSantis was elected as governor of Florida in the first place, calling DeSantis disloyal for running against him.
Trump later said he would protect Social Security and Medicare, while claiming DeSantis would cut those social safety net programs.
Trump then turned his ire to President Joe Biden, attacking the Democrat for allegedly supporting and enacting Rep. Alexandria Ocasio-Cortez's Green New Deal, despite the resolution never passing and never being supported by Biden.
"I am a true environmentalist," Trump said. "I want clean air, I want clean water, I want great fuel standards, I want clean energy. But, if you look at China, they are building coal plants we look into hoping the wind blows."
He proceeded to make a false claim that the current administration is trying to ban non-electric cars. The White House is aiming to have 50% of new cars sold be electric by 2030.
Trump played the hits from prior campaign rallies, such as calling for re-enacting travel bans from majority-Muslim countries. He also discussed inflation, the U.S. Supreme Court, the war in Ukraine and Biden's mental well-being.
The crowd was cheering throughout the event — except for when Trump discussed abortion, saying that he supported exceptions for rape, incest and murder, which caused the crowd to go silent.
The conference room at the Mid-America Center was overflowing with Trump supporters, the crowd was a mix of Nebraskans and Iowans, with the former appearing to outnumber the latter.
The Associated Press determined Friday's event was Trump's largest event to date in Iowa. The largest Iowa event had been in March, when he spoke to more than 1,500 people at a theater in Davenport and also went after DeSantis on ethanol.
Trump had been expected to hold an outdoor event in May in Des Moines with about 5,000 attendees, but the event was called off because of a tornado warning.
Iowa Democrats weighed in on Trump's visit to the Hawkeye State with a morning press conference in Des Moines.
The lone Democratic statewide office holder, State Auditor Rob Sand, took shots at Trump ahead of his visit, saying the former president paved the way for state-level abortion bans, including legislation Iowa Republicans are expected to pass during a special session on Tuesday.
Sand said Trump and other Republican primary candidates are avoiding taking a stance on abortion because they know their position is unpopular among general election voters. A March Iowa poll found that about 60% of Iowa voters think abortion should be legal in all or most cases.
"These folks can't be trusted, because what they know is that they have to pander to a party that is built on a position that is fundamentally unpopular with the vast majority of Americans, and the vast majority of Iowans," he said.
Sand said Trump's economic agenda was "classic establishment Republican," and drew a contrast with President Joe Biden, who has guided bipartisan passage of laws like the bipartisan infrastructure law in 2021.
"We were hearing about infrastructure deals like every week," he said. "Four years, it was infrastructure week. Four years, and they never got it done. Finally, Joe Biden got it done."
Caleb McCullough of the Lee-Gazette Des Moines Bureau contributed to this report, which also includes material from the Associated Press.