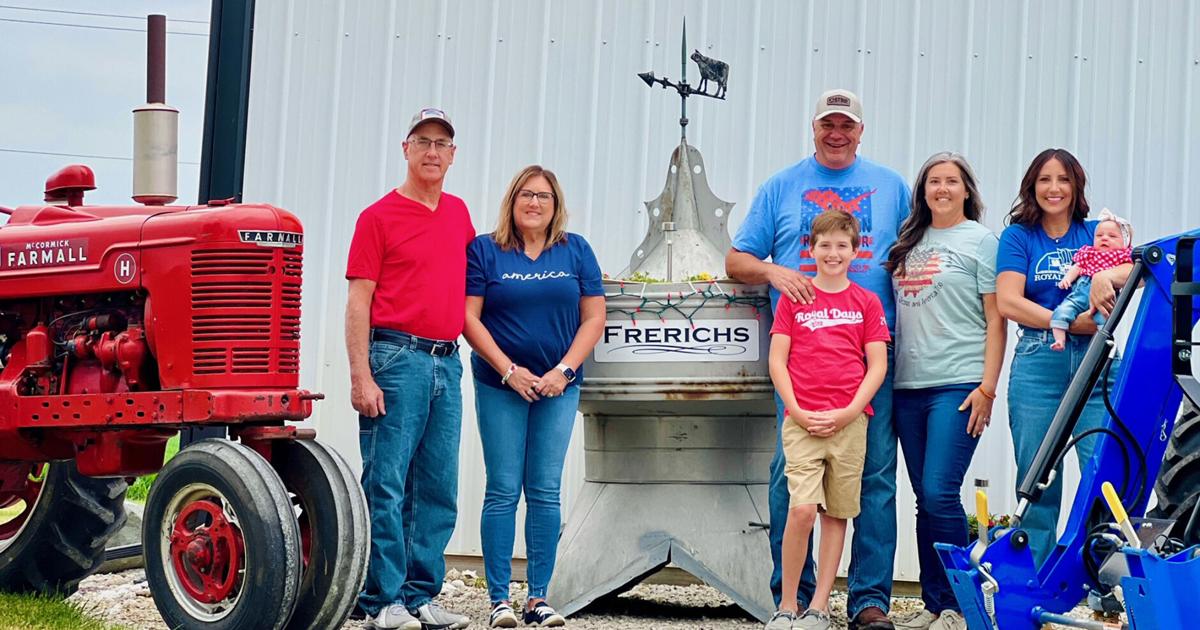 Farming can be a stressful way to make a living. Farmers are business people with a lot invested in equipment, seed and other things. And like many businesses, hard work doesn't always guarantee success. The markets and weather are two things a farmer can't control. Tim Frerichs, who farms with his family in rural Royal, knows that as well as anyone.
How long has your family been farming?
My dad grew up on a farm and started farming on his own as a young man. I started helping on the farm as a young boy with my opa and dad. I farmed with my dad until his health slowed him down. My wife, Teri, and I took over the farming.
Where is your operation?
My family has always farmed 3 miles west of Royal. The farm I grew up on is where we currently live. I was lucky to buy the land and build our home there.
How and why did your family come to this area, and from where?
Our ancestors migrated from Germany and settled in this area.
What does your operation consist of?
We are corn and soybeans only.
How many family members does the operation support?
Our operation solely supports my wife, Teri, and I. Our daughters, Timbra, Thea and Tenneal, help when able, as does our son-in-law Paul.
Do any family members work other jobs?
I will be starting my 43rd year as a school bus driver for Prairieview-Ogden district this fall. I enjoyed that I was able to drive my own girls and grandson to school. Teri retired from the College of Education at the University of Illinois after 34 years. Our oldest daughter, Timbra, is a teacher in St. Joseph, and her husband, Paul, works in Champaign. They have a 10-year-old son.
Our middle daughter, Thea, works for Carle and has a 2-month-old daughter. And our youngest daughter, Tenneal, is a nurse and lives in Fort Wayne, Ind., with her 8-month-old son and her husband, Griffin, who is deployed overseas until October.
How have you seen farming change over the years?
Technology has probably been the biggest change. Unfortunately, expenses have grown with equipment and all the inputs.
Your farm equipment: Green (Deere), red (Case IH) or other?
I'd like to say we are patriotic! We own red, white and blue equipment.
What makes farming such a good vocation?
Farming offers many joys — the joy of working the land, tending to your farm, the comradery of good neighbors, and watching your crops and family grow over the years.
If you could change one thing, what would it be?
Farming can be such a fast-paced operation. My wife always says, "Slow the pace; enjoy it!"
What's the best time of year to be on the farm?
I like the spring planting season best. It brings fresh starts and new beginnings. This is where it all begins. My grandpa always said, there is no better demonstration of faith than a man planting seeds in a field.
What do you like to do to relax?
Teri and I enjoy camping and the beach. Our daughters and their families enjoy this also.