Development begins on challenge to assist agriculture researchers preserve nut, fruit crops for in the present day and tomorrow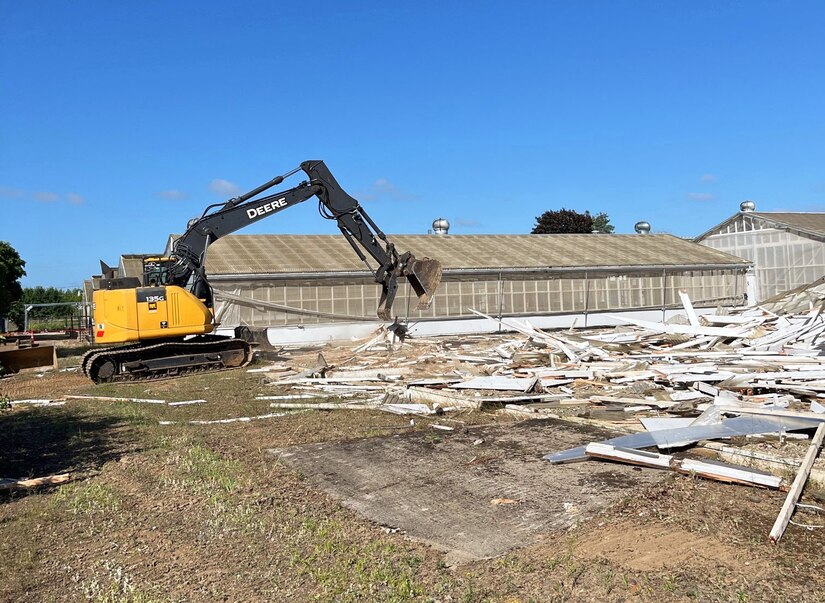 SEATTLE —
Renovation and construction began June 15 at the Lewis Brown Research Farm in Corvallis, Oregon, where nearly 35,000 square feet of screenhouses and greenhouses are being upgraded.
The project supports the Agricultural Research Service's National Clonal Germplasm Repository (NCGR), a gene bank established to collect, distribute and evaluate plant germplasm, such as seeds and other tissues that enable plant reproduction.
The U.S. Army Corps of Engineers Interagency and International Services (IIS) program, working on behalf of the Agricultural Research Service, an agency of the U.S. Department of Agriculture, provides planning, environmental assessments, contracting, design, and construction contract oversight. Doyon Management Services, LLC, the project's construction contractor, was awarded the contract through an open bidding process in January 2023.
"These upgrades will help ensure that the valuable genetic resources we conserve here at the NCGR remain available to future generations," said NCGR Acting Research Leader Carolyn Scagel. "We safeguard a collection of about 12,000 plants representing nearly 700 species of genetically diverse and agriculturally important specialty crops including hazelnuts, hops, mint, pears, currants and six kinds of berries."
Michael Wyatt, Seattle District IIS project manager, is overseeing the planning, design and construction. This involves the demolition of existing screenhouses and construction of new screenhouses and their supporting infrastructure. The project also involves renovating two greenhouses on-site.
Wyatt emphasized, "collaborating with another government agency to provide these types of facilities is an important piece of food stability research and is critically important to the public. I'm proud to be part of it."
The IIS program provides technical assistance to non-DoD federal agencies, tribal nations, state and local governments, private U.S. firms, and foreign governments.
"When complete, this project will benefit our collection, our mission, and our research partnership with Oregon State University," said Scagel.
The $13.5 million federally funded project is expected to be ready for use by fall 2024.