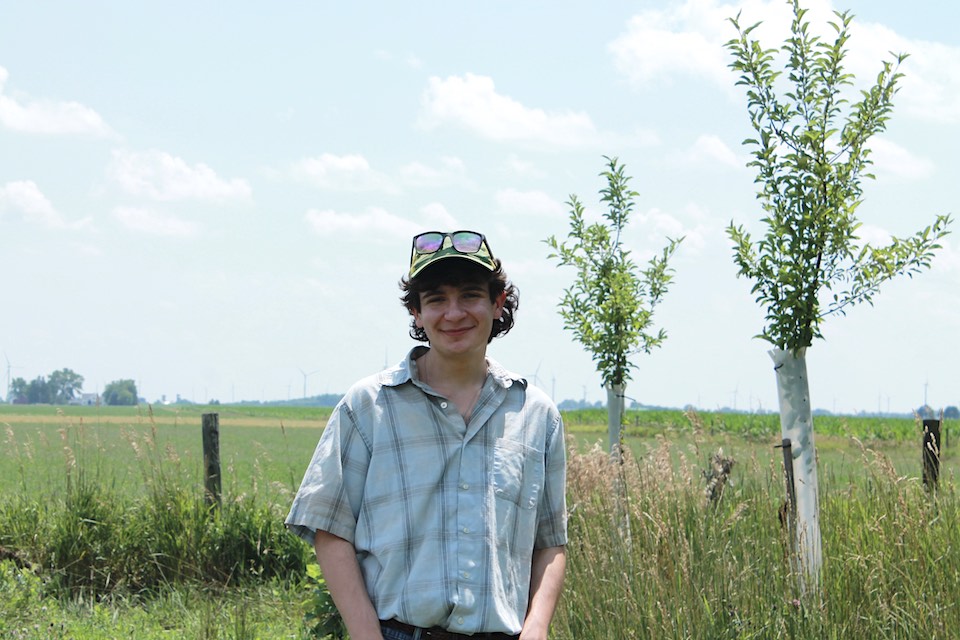 Daniel Block '25 is cultivating sustainable agriculture and soil health
About 100 miles south of Chicago in Iroquois County, Illinois lies Zumwalt Acres. The farm cultivates a variety of crops, but its aims reach far beyond what they grow.
Located on the unceded homelands of the Kickapoo, Peoria, Kaskaskia, Potawatomi, Myaamia, and Oceti Sakowin peoples, Zumwalt Acres is a regenerative agriculture research community, dedicated to cultivating a model for ecologically sustainable, socially responsible, and Jewish land stewardship practices in the midwest.
Recently, the farm transitioned an acre of vegetable production to perennial shrubs and trees, including raspberries, aronia berries and apples, and installed a protective fence around the crops. The new addition is thanks to funding from a Projects for Peace grant awarded to Daniel Block '25.
This is Block's second consecutive summer working at Zumwalt Acres. After apprenticing at the farm last summer he remained involved during the school year, and now serves as a co-director.
Block's interest in agriculture was sparked during high school, when he first read John Steinbeck's "Grapes of Wrath" and began to learn about the social problems for farmers in his home state of Arkansas. He discovered Zumwalt Acres through a friend's Instagram post while in high school.
"I started following them and delved deeper into the farm and their philosophy. I found it fascinating. I thought to myself, 'I want to work here over the summer.' And so I did," Block said. "Agriculture plays a key role in all of our lives, it makes up the most political part of our day: eating. Making the food system more sustainable, or ethical, excites me."
Although the new crops won't bear fruit for a few years, their immediate value lies in their contribution to the soil. Perennial crops are crucial to maintaining long term soil health. They promote healthy microbial activity, hold water in the soil, and prevent erosion.
"Deep and unrelenting tillage in conventional agriculture has caused topsoil on farmland to fall 1.2 feet below unfarmed lands," Block said. "At this rate, we're going to lose healthy topsoil before we run out of water. We need to slow down."
The grant also supports a series of community events in Iroquois County to educate fellow farmers about sustainable practices.
"We want to be a sustainable model for agriculture in the midwest and build relationships between the community and the soil," Block said. "We want to connect more conventional folks in the area to whatever sustainable resources and practices make sense for their situation and operation."
Projects for Peace is a global program that encourages young adults to develop innovative, community-centered, and scalable responses to the world's most pressing issues. Along the way, these student leaders increase their knowledge, improve skills, and establish identities as peacebuilders and changemakers. Projects for Peace is hosted by Middlebury College's Center for Community Engagement. Participation at Brandeis is facilitated by the International Center for Ethics, Justice and Public Life.
Block, who is double majoring in environmental studies and American studies, came up with the idea to seek funding for a project at the farm in the fall, but he was originally thinking of pursuing a smaller grant. He was encouraged to think bigger in a meeting with Leigh Swigart, director of international programs in justice and society at the International Center for Ethics, Justice and Public Life.
"She didn't think a smaller grant would be enough and encouraged me to apply for the Peace Project grant," Block said. "So I talked with other people on the farm and we came up with a plan."
Looking ahead, he believes that his summer work will leave a lasting impact.
"The word perennial doesn't just apply to crops, it's about tending to a long term system of agriculture that builds up soil health year after year, and addresses climate health and rural community health year-after-year," Block said. "That's what this project is all about."