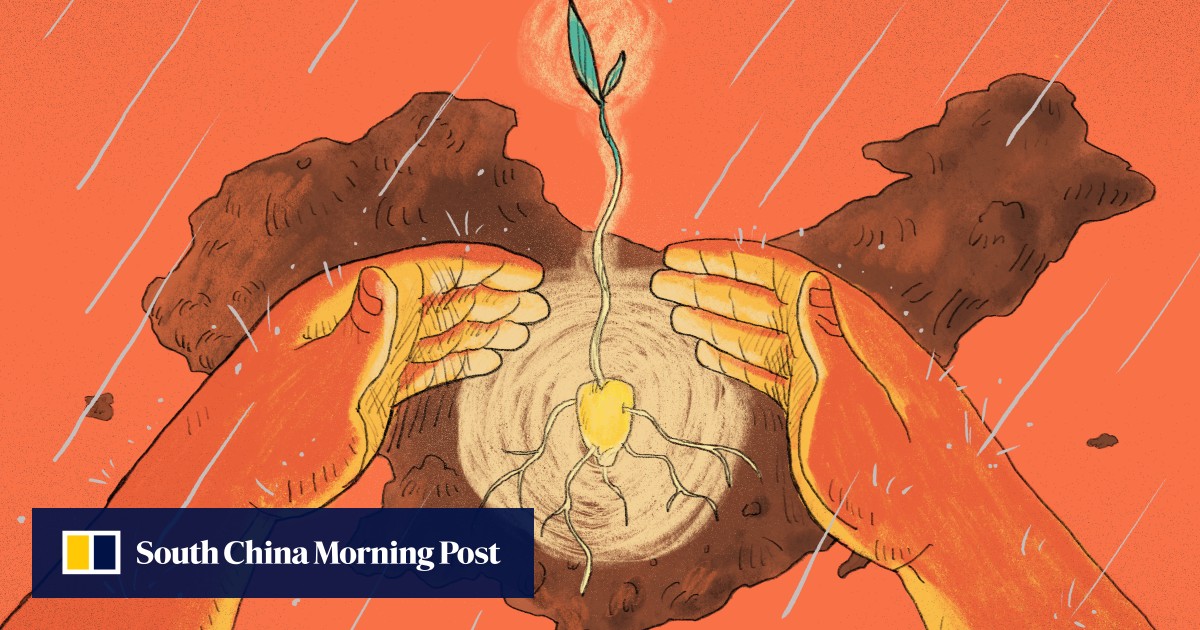 Owing to faster agricultural development in the United States, China's corn production per mu – a Chinese unit of measurement – has fallen further behind the US in the past decade, currently at 314kg (692 pounds) less per mu from 200kg in 2005.
Our agricultural technology gap, particularly with the US, can't be allowed to widen any further

"About 70 per cent of China's corn seed comes from the US," said Jia, who is also chairman of the African Academy of Sciences China branch. "Western countries, especially the US, have created a serious choke point on our seed resources."
Escalating tensions between China and the US-led West have sounded the alarm over China's food security amid weak competition involving indigenous seeds – a major reason that China relies so heavily on food imports.
Experts have called on Beijing to diversify its seed imports, increase collaboration between universities and companies, and employ smarter breeding techniques.
The world's second-biggest economy needed to strengthen its agricultural technology and diversify its seed suppliers to address the international "choke point" in its agricultural sector, including the livestock industry and the breeding of high-quality fruits and vegetables, according to Chinese academics.
"Our agricultural technology gap, particularly with the US, can't be allowed to widen any further," Deng Yan, a professor at Guangdong Ocean University's School of Management, said at a seed conference in Hainan in early April. "Otherwise, it would put China at greater risk of containment by the US."
Deng said that the tensions between the world's two largest economies were putting immense strain on the domestic seed industry, leading to a decline in the availability of high-quality fruit and vegetable seeds, and the livestock breeding sector was also severely affected.
Deng said that seed concerns had shifted from food quantity to quality amid restrictions on the import of high-end variety seeds.
"China's high-end seed development capability is poor, and it's a technological problem," he said.
China has nearly eight times more authorised domestic breeds of crop seeds than the US and the Netherlands combined, with 7,323 breeds authorised domestically between 2010 and 2019, according to data compiled by Deng from the International Union for the Protection of New Varieties of Plants.
"But in terms of international market share, China's seed-competitiveness ranking quickly slips from first to 15th," he said.
He said China's seed exports only had a 1.51 per cent share of the global market, compared with the Netherlands' 20.47 per cent and the US' 13.91 per cent.
"The US has more than 2,000 seed patents from just one company, Cordova, while the total number of all patents in China combined is only 1,225, not to mention that over half of them come from a single state-owned enterprise, without which the figures would only get worse," Deng said.
To address this problem, China needs to foster a mutually beneficial relationship between businesses and research institutes, Deng contends. But the lack of collaboration between companies and research institutes has disrupted the commercial seed industry.
"In China, agricultural technology is certainly the forte of research institutes, and companies are less capable of solving seed-security issues," Deng said.
China is the second-largest seed consumer in the world, behind the US, with the market potential estimated at more than 120 billion yuan (US$16.6 billion). It had a seed-trade deficit of US$350 million in 2021, according to a report released in October by Vcbeat, an agricultural technology platform in Beijing.
The report added that despite an abundance of seed-related enterprises, China has relatively weak research and development capabilities, less capital investment and weak copyright protection, while more than 90 per cent of the scientific instruments that China uses for seed research are imported.
Despite China ranking first in the world for seed-patent applications, higher than the US and Europe combined, loose collaboration between research institutions and companies has hindered the commercialisation of its seeds, the report said, suggesting that the government investigate the issue.
"China's per capita farmland is relatively small, which requires us to increase grain yields through technological measures," said Weng Ming, a researcher at the Chinese Academy of Social Sciences' Institute of Rural Development.
China is facing extra pressure from a dwindling young rural workforce due to urbanisation and the continued sale of farmland by debt-ridden local governments, which further weighs on food security, he said.
Beijing could draw on advances in agricultural science such as smart breeding to counteract the financial pressures that could potentially lead local governments to disregard the red line on farmland, Weng said.
"Although we have seen many recent technological breakthroughs in China's agricultural sector, the biggest hurdle remains their practical applications on farmland, and Beijing's policies need to be practically implemented in the countryside," he said.
Deng concurred with the report's suggestion that China accelerate the implementation of intelligent breeding, which could speed up calculations and improve the accuracy of predictions, and increase the likelihood of breeding success.
In recent years, Beijing has implemented various initiatives to bolster its agricultural sector, including an action plan for the revitalisation of the seed industry and the decision to make the production of soybeans a target for local-level officials to meet.
The country included increasing the capacity of its seed bank, accelerating the application of the breeding industry, and nurturing internationally competitive seed companies in its latest five-year plan.
The average yield of China's soybean and corn varieties is only equivalent to 60 to 70 per cent of the yield of US' fields, Liu Xin, director of the Office of the National Crop Variety Certification Committee, said at a news conference in Beijing on April 18.
"The contribution of enhanced seeds to increased agricultural yields in China is only 45 per cent, which still leaves a lot of room for improvement from the level of more than 60 per cent in developed countries in the West," Liu said.
This director flagged the need for China to pay more attention to the breeding of enhanced seed resources and to increase research in seed biotechnology to reduce the gap with the West.
Researchers also warn that tensions between the US and China have brought gloom to China's livestock sector.
A researcher who requested anonymity said that US restrictions have had a considerable impact on China's livestock industry, even though Washington had not announced any agricultural sanctions.
"The Chinese agricultural system that has been most affected by the Western restrictions is the livestock sector," the researcher said.
In the US, livestock suppliers commonly sell two males and two females to Chinese clients to ensure genetic stability through four bloodlines for the next generation of pigs, cattle or chickens, he said.
"But now we are seeing some suppliers deliberately sell us just only two boars and two sows … or even just one male and one female, which causes us to have to repurchase breeding stock two years later after we have bred genetically unstable animals," the researcher said.
"Many Chinese companies have been having difficulty buying whole breeding stock since 2016 or 2017."
As Beijing has sounded the alarm on food security, China has recently made more breakthroughs in soybeans, rapeseed oil and domestically produced tropical fruits.
"The development of seed will give a strong impetus to domestic breeding in China," Jia said. "The era of the US choking China's neck will be over, and there will be an immense future for corn breeding in China. I am very confident of that."