PILLAGER, Minn. — Keith Ferdon served the United States in numerous deployments around the globe over 24 years. When he wasn't busy with his duties and missions, he was reading piles of books on farming.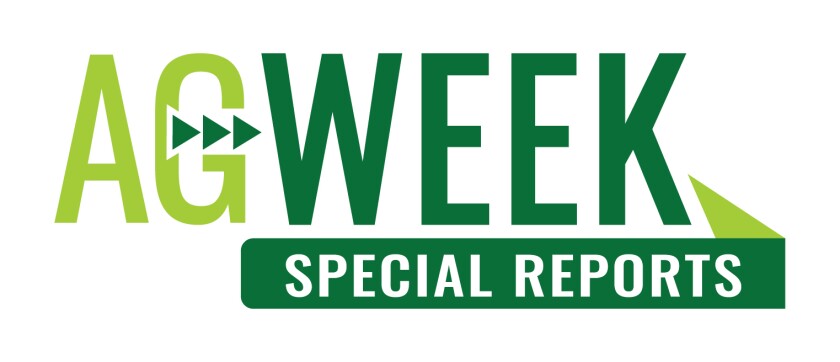 He had a plan to enter a second career of
agriculture
after he retired from the military in 2018. He wanted to return from his tour and start improving his farming practices.
"But books can only get you so far," Ferdon said.
He needed hands-on learning with those that have been in agriculture for many years.
That's where the
AgVet program
came into play.
The goal of the AgVet program is to increase the number of military veterans pursuing knowledge and skills development through comprehensive, hands-on and immersive model farm/ranch programs that lead to successful careers in the food and agricultural sector.
The first year of AgVet workshops took off in central Minnesota in 2022 thanks to a
$750,000 USDA grant to Sprout
, a non-profit food hub in
Little Falls
, Minnesota, which has partnered with Region Five Development Commission to offer veterans in the region opportunities to explore agricultural careers. Ten workshops a year, over three years, are providing hands-on learning opportunities through apprenticeships, fellowships, and cohort peer-to-peer learning.
Ferdon is a first-year fellow with the AgVet program. He was joined with other fellows and one apprentice on Thursday, June 29, at
Grampa G's
Greenhouse in Pillager, Minnesota. The apprentice, Clint Headley, has an advanced role in that he is a salaried employee, who works closely with Sprout, the organization that sought out and was awarded the funds to start the AgVet program. Fellows also are expected to attend all these workshops and take an active role.
Headley works with Sprout executive director
Arlene Jones
in that business and works with all areas of the food industry to grow an understanding of the whole food system from growers to consumers. He conducted numerous interviews with farms and those interviews will be available on the Region Five Development Commission website for others to learn from.
"It's a big picture of the agriculture world," Headley said of his position in the program. He hopes it helps him grow his Katahdin sheep business and beyond on his farm near Brainerd, Minnesota. So far, he said, it's helping avoid a lot of trial and error that he would have come across had he trudged ahead on his own in agriculture.
He and Ferdon are among those veterans who have recently retired from a career in the military. For many veterans, the military is their identity, so entering life absent of the military can be a difficult mission. The USDA, which is funding the AgVet program, has a
variety of programs
and offerings for veterans in an effort to make sure they have the tools to step into agriculture. They recognize that veterans are a group of people that have a skill set that makes them well prepared for the hard work of farming. The USDA has prioritized hiring veterans for
USDA positions
as well.
Clint's wife, Staci Headley, is the senior regional development planner for
Region Five Development Commission
. She works closely with Sprout to administer this program and said that veterans have a skill set and mentality that fits well with agriculture.
"There's a lot of similarities there, too," Staci said. "They are known for being hard workers, and independent, and not really being willing to ask for help and very proud."
It makes sense to introduce them to the opportunities to see if they can find one of the widely diverse jobs available in agriculture. Grouping them with other veterans in these free workshops is also good for their mental health as stories of military experiences inevitably enter the conversation.
Clint recognized that being a part of a group of veterans that have an interest in agriculture has allowed him to maintain that relationship with the military that is still very much a part of his life.
"Some of the proudest people in the nation are the military people and farmers, and so when things don't really go right, it's just kinda natural to beat yourself up a little bit," Clint said. He's comforted that many others he meets here are going through the same thing. "I'm not on an island," he added.
For Ferdon, the AgVet program has allowed a space where veterans interested in agriculture are pulled together to learn together and they grow connections with other like minded individuals.
"Just learning — instead of beating your head against the wall … there are so many other people that are in the same situation. It's all a part of the process," Headley said.
Ferdon, a long time friend of Clint, agreed.
"I have resources I can go to and I have a connection through this program," Ferdon said. Rather than just cold calling people for advice, he has grown his list of connections that he knows he can go to for guidance.
"Generally if you've served 20 years you're still relatively young and you are looking for a second career, and this is an excellent opportunity for veterans who are generally very motivated," Ferdon said.
The plan was to have 10 workshops each year, over three years. This is the first year of the program. The workshops have shown strategic skills in successful farming such as navigating market channels, how to use social media for marketing, gaining access to state and federal programs, animal husbandry, cover crops, soil health, high tunnel and deep winter greenhouse systems, according to organizer Arlene Jones. All workshops are also open to the public and free. That's a unique highlight of this program. Though it was established for veterans, the workshops have been open to all, furthering the reach of this agriculture education to many potential emerging farmers.
It's funded by USDA National Institute of Food and Agriculture, and the USDA had more than $4.8 million budgeted for the AgVet program in 2022. This particular program was the only one in Minnesota to be awarded funding.
The unique proximity to Camp Ripley, a regional training center for military members near Little Falls, Minnesota, gives it a connection to a large veteran community. Even so, getting veterans to take on the roles of fellows and apprentices in the program has not been very easy. In some cases, only a few veterans attend some of the workshops. Sometimes the general public outweighs veteran attendance. Veteran family members are also welcome to join in participation.
There's good reason for veterans to get involved. Those brought on as fellows and apprentices must be actively involved, providing statements of learning, but are paid and given stipends for education costs for joining in.
Jones said employment opportunities in agriculture vary widely much like the backgrounds of veterans. Likewise those who have been attending these workshops are emerging with desires to work in agriculture in many ways.
"We know that one veteran is looking at opportunities in filming food," Jones said. "We know that another veteran is expanding his livestock operations. We know a veteran is moving into high tunnel production because of what he has learned."
The workshop in Pillager was the final workshop of this fiscal year. If you missed out on the free opportunities, the next two years of the program will include the same workshops. You can register for those events at the
Region Five Development Commission website.
Each year of the program, new fellows and apprentices are brought on to learn these skills. The hope is to have a total of three apprentices and 15 fellows graduate from this program and remain connected.