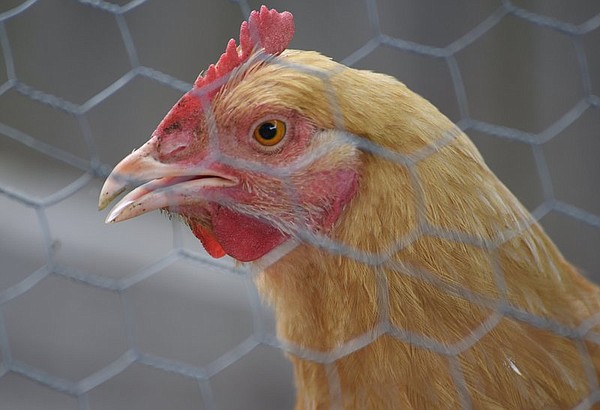 Some Catoosa County residents are taking advantage of compromise language in the county's recently passed residential chicken regulations that allows them to rezone their residential property to agricultural use at no cost.
Nearly 20 residents had zoning requests on the agenda for the Planning Commission on Tuesday, and several testified about their plans to get involved in agriculture — or make sure their current chicken flock was legal.
The deadline for the free rezoning is Nov. 17, according to John Pless, public information officer for Catoosa County. Filing a rezoning request with the county usually costs $400, he said in an email.
At the meeting, Ralph Powell was one of several people who wanted to rezone property.
"I grew up farming, and with the new changes, I decided to get it rezoned for a little hobby farm for the grandkids," he said.
Farming is an opportunity for young people to learn good values, Powell said.
Rodney Simpson said the property in rural Ringgold that he wanted rezoned was his grandfather's, who built the house in 1940. He said at the meeting he always had cows and chickens and didn't know his property was zoned residential until the chicken issue came up.
Hunter Fletcher told the commission he wanted to rezone his property east of Ringgold to grow food for his family.
Jack MacLemore said he was working with the Tax Assessor's Office to combine two properties to meet the three-acre threshold allowing the property to be zoned for agriculture.
The Planning Commission voted to recommend all the rezoning requests except one — because the rezoning notice required to be published in a local newspaper was partially cut off. The commission makes recommendations on zoning changes, but the county's Board of Commissioners makes the final decision.
There were 17 rezoning cases in June, Pless said in an email, 15 scheduled for July and three scheduled so far in August.
"There's been an uptick in those," Pless said of the zoning requests in a phone call. "It's been a great opportunity for people who have a little bit of land around them."
Along with fewer restrictions on chickens, he said there are other opportunities available for agricultural zoning, giving the example of residential zoning codes requiring gardens to be in backyards. That restriction doesn't apply in agricultural zones. Pless added that the restriction on gardens in front yards hasn't been enforced in residential zones.
Passed in late April, the hen regulations limited residents to eight hens on residential properties up to an acre and up to a dozen hens on residential property of more than an acre.
The regulations also require property line setbacks and specifications for chicken care and shelter. Residential chicken owners aren't allowed to sell any chicken products, according to the final draft passed in a 3-1 vote.
Voting yes were Commissioners Larry Black, chair; Jeff Long, District 1; and Vanita Hullander, District 3. Charlie Stephens, District 4 commissioner, voted no, while District 2 Commissioner Chuck Harris was absent due to a family illness.
The regulations on hens were passed after about a year of controversy and criticism that new regulations were unnecessary and an undue burden on people simply wanting to feed their families. County officials said regulations were necessary to respect the neighbors of backyard chicken owners.
People living in the county's agriculture zone are allowed unlimited chickens, and during the regulations debate, Stephens included a provision that would allow the compromise allowing residential residents six months fee free to rezone their property to agricultural.
According to the county's zoning regulations, the minimum size for an agricultural property is three acres.
Applications for rezoning are available on the county's website and at the office in Ringgold.
Resources for raising chickens are available at the University of Georgia Extension Office, and Cody Bowling, an agriculture and natural resource agent at the office, said he welcomes people to contact the office for help.
Speaking by phone from the extension office in Ringgold, he said people interested in keeping chickens should do their research if they don't know what it takes to keep chickens healthy and safe. He said he hasn't had many new people requesting information on chickens, but he expects all the attention given to the chicken issue to raise interest.
"You're going to have an influx of people who want to have chickens, which is great. I think that's excellent, but if they don't know about raising chickens, you can't just keep them in a cage in your backyard," Bowling said. "They need to know about what each chicken needs to eat each day, how many chickens can be in my coop."
Chicken owners also need to guard against wild predators like foxes or coyotes, or domestic animals like cats and dogs, he said.
Keeping chickens is harder than it looks, and Bowling said he wants people to be informed about chicken care, shelter and possible diseases.
Contact Andrew Wilkins at awilkins@timesfreepress.com or 423-757-6659.