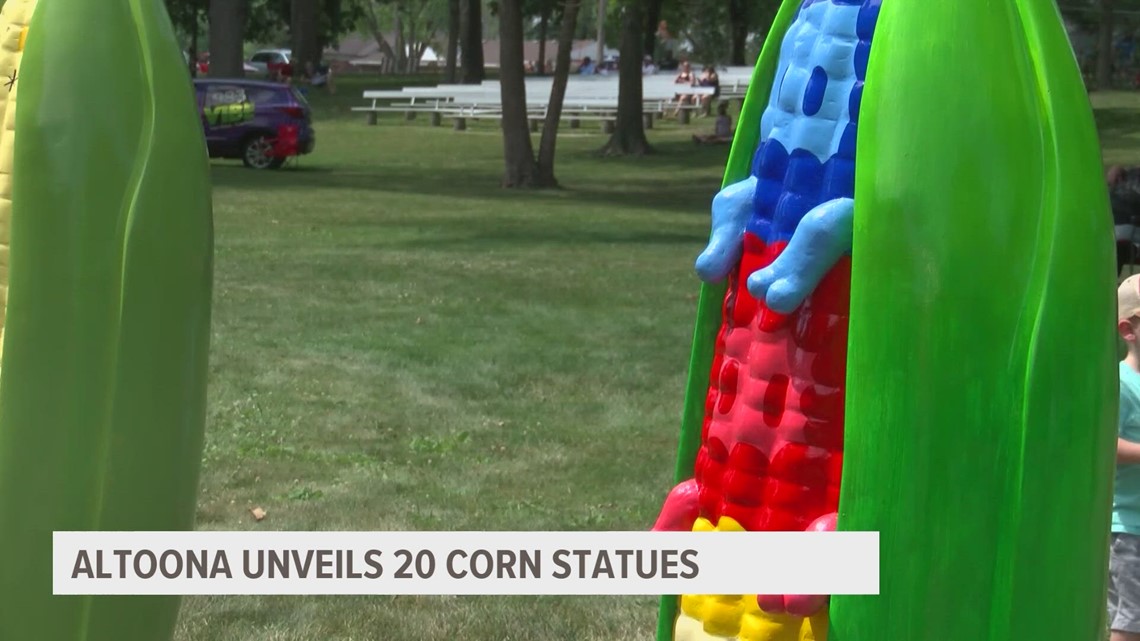 The celebration marks 100 years since the first acre of commercial hybrid seed corn was grown on a farm in Altoona.
ALTOONA, Iowa — Parades are a staple of the Fourth of July. But in Altoona, the annual event had a new addition for 2023 as city officials kicked off the first-ever "CORNival" by unveiling a crop of statues dedicated to Iowa's signature harvest.
There's 20 of the statues in total, each one measuring six feet high, all designed by local artists. 
"I just thought it was a great way to honor Altoona and also a great way to grow my art portfolio and try a new medium. I've never done painting on a sculpture before, and it was just such a fun concept, I couldn't pass it up," artist Faith Tyrrell said.
So why celebrate corn on the Fouth of July, exactly? It's to mark the 100th anniversary of the first acre of commercial hybrid seed corn being grown on a farm in Altoona.
"Somebody might not necessarily think agriculture when they hear a suburb of Des Moines, but we know that agriculture is so important to the state. And when we heard that about this one fact, we just had to run with it to celebrate the important milestone," said Rachel Simon, communications specialist for the city of Altoona.
After the "CORNival" wraps up, the corn statues will be put on display around Altoona for all to see. They'll be at the Spring Creek Sports Complex when cyclists come through Altoona for RAGBRAI. Artists said that getting to share their handiwork for their local community to see is a reward that's hard to beat.
"Art is not a solo practice. It's something that you get to enjoy with others, it's supposed to be a gift. So getting to experience it with people is exciting," Tyrrell said.
Local 5 is now on Roku and Amazon Fire TV. Download the apps today to stream live newscasts and watch video on demand.