Alston, a third-generation N.C. A&T graduate, continues the agricultural legacy of his family.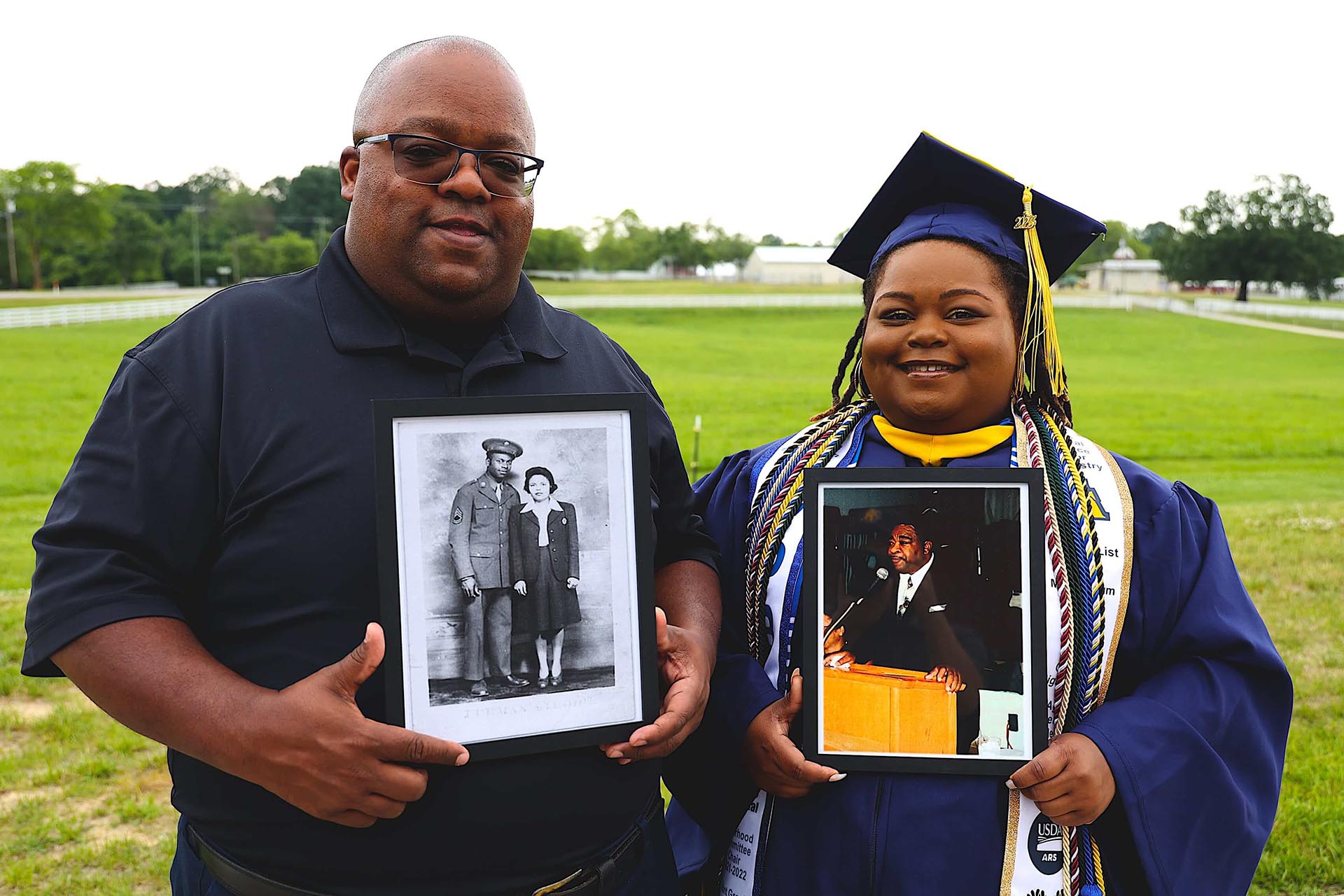 May 22, 2023 – EAST GREENSBORO, N.C. Albert Alston, who emigrated from Rocky Mount, North Carolina, to North Carolina Agricultural and Technical State University in the 1960s, attended there, earned a degree in agricultural education, and then went on to teach agriculture at Northern Nash High School. His son Antoine was one of his pupils.
Antoine Alston went at N.C. A&T and majored in agricultural education in the 1990s, following in his father's footsteps. After receiving his Ph.D., he continued to work for his alma university, the College of Agriculture and Environmental Sciences (CAES), as assistant dean for academics.
The year is 2023, and Kayla Alston, Antoine's daughter, is a U.S. Department of Agriculture 1890s Scholar who graduated with honors from A&T and is majoring in animal sciences and minoring in chemistry.
She was the most recent member of her family to graduate from A&T with a degree with an agricultural focus on May 13 when she turned her tassel.
The family has four generations of 1890 university agriculture when you include Antoine's maternal grandpa L.C. McLaurin, who received his dairy science degree from Delaware State University in 1940.
Having so many generations of college graduates is exceptional, especially for Black households, according to Antoine. Our family has always supported education.
With all the history that around her, Kayla's fate would have appeared to be predetermined. She had spent her childhood on campus, in her father's workplace, at football games, and at homecoming activities.
But first, Kayla claimed, she sought out a novel experience.
"I actually looked everywhere else but A&T," she said. "I had lived here my entire life, and my dad worked in my department. After a formal tour, however, I understood that we would simply need to chat and that everything would work out since I genuinely desired this place's family atmosphere, smaller programs, and personalized service.
On the other side, Antoine, who had spent his childhood going to Webb Hall and the University Farm, had been observantly waiting to see whether his daughter showed any interest in agriculture. From the moment she joined the National FFA Organization in high school, he knew she was hooked.
She began tracking that way, so when she stated she wanted to pursue animal science, I thought, 'Here we go,'" he recalled. "I simply felt like nudging her a little bit. She then did same.
The Alstons agreed on ground rules, such as no fatherly grade-checking or nagging to work more, and Kayla started as a freshman in the autumn of 2019. She first kept her ancestry a secret from others.
She explained, "I didn't want people to believe I'm only here because my dad brought me here. "I told him, 'You have to be associate dean, not just Dad.'" I think our partnership has worked out well. I was there for myself as well, not simply because of my dad, as I was able to demonstrate.
After making friends and joining study groups, Kayla was shocked to witness how the university's culture changed the next semester when the campus was forced to close due to COVID-19.
It was difficult, she admitted. "I didn't spend as much time with my support network as I wanted to. The opportunity to relax over the weekend and participate in study groups with my pals were all over. It was really difficult to remain motivated. I simply had to remain focused on my eventual goal.
Kayla persisted and joined the honors college, the Aggie Mentor Collective, Collegiate Farm Bureau, and MANRRS (Minorities in Agriculture, Natural Resources, and Related Sciences). She was the sole representative from North Carolina and one of just 60 undergraduates selected to present at Posters on the Hill, an event organized by the Council on Undergraduate Research, last summer.
Kayla was acquainted with her grandfather, who died in 2022. Although she never met her great-grandfather, she believes he would be pleased.
It didn't dawn on her straight away, but as she neared graduation, she began to understand that she was in fact continuing her family's heritage. "I believe they are currently grinning and looking down."
Kayla attributes a lot of her success to her A&T family, including her father, student support specialist Kishaa James, whose door is always open, Millie Worku, Ph.D., whose lab Kayla has worked in since her freshman year, and Andrea Gentry-Apple, DVM, a faculty member in the department of animal sciences whose role modeling as a Black female veterinarian gave Kayla the "tough love" she needed.
She will attend Auburn University this autumn on a scholarship to earn a master's degree in wildlife sciences, and after that, she hopes to work for the USDA.
"I'm so proud," Antoine said. "It's difficult to put into words how it feels to see my kid out working on the farm that my dad toiled on 30 years ago when I was a student. I've informed her that everything is possible. She encourages me.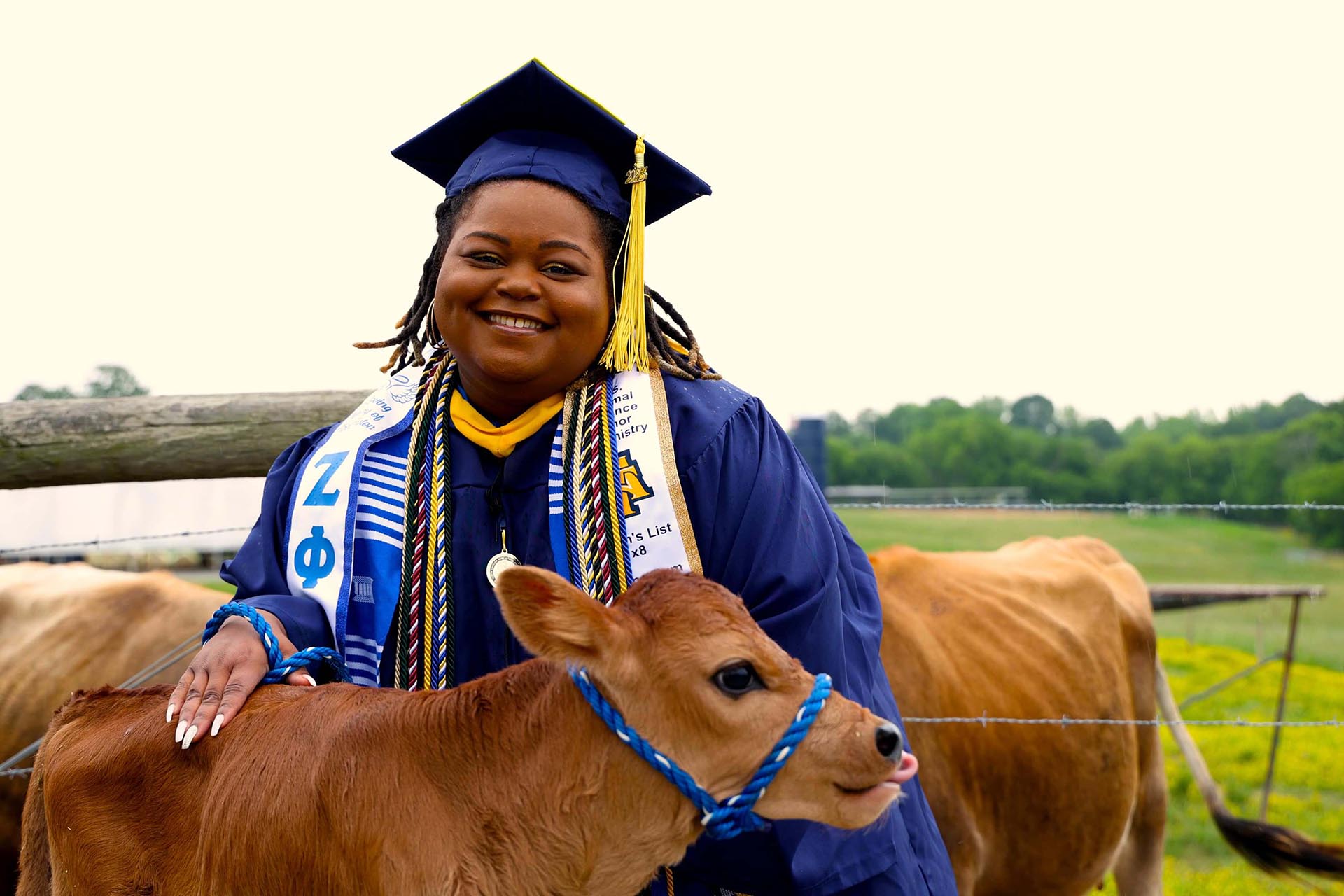 During her four years at A&T, Kayla Alston, a graduate in animal sciences, collaborated with scientists in the College of Agriculture and Environmental Sciences on a study regarding mastitis in dairy cows.