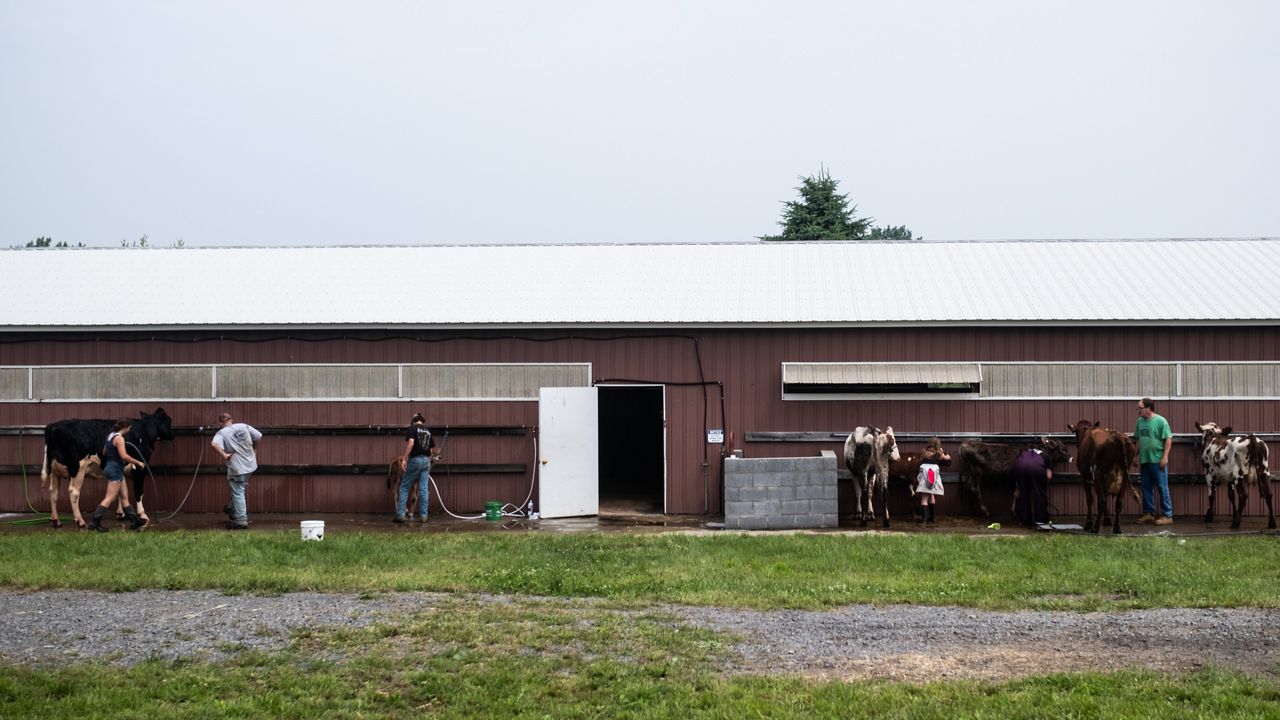 Last November, Gov. Kathy Hochul and state Commissioner of Agriculture Richard Ball announced round table discussions to strengthen New York's county fairs. Oswego County Fair board members say they felt the support this year.  
Tim Ridgeway Sr., vice president of the Oswego County Fair Board, said over the last few years it is harder to find sponsorships to host events, but the county has been incredibly helpful.  
"They were very, very supportive this year. They jumped in with both feet and we received support this year from Cornell Cooperative Extension as well," Ridgeway said.
Due to challenges with funding, they have had to change events over the last few years, Ridgeway said.  
"We don't do the harness racing anymore, but we brought back the tractor pulls this year and we haven't had those since 2019," he said.  
The Oswego County Fair has been held annually since 1859 with the exceptions of 2020 and 2021 due to the COVID-19 pandemic.
Fair board President Harold Smith said despite challenges with the weather, fair attendance was good.
"On Friday when we opened, we had the wildfire smoke from Canada, and on Saturday, we had 90-degree heat, so Sunday was our golden day," Smith said.  
He believes they had approximately 5,000 visitors to the fair per day.
One purpose of county fairs is for exhibitors to qualify for the State Fair, Smith said. While the numbers were low for some livestock, others were very high.
"The numbers were down for sheep and swine, but other than that we had an open goat show that had over 100 goats competing, not just from our county, but from all New York state," Smith said.
The Department of Agriculture and Markets supported the fair in a few different ways, Smith said.  
"They had their own display in our A.G. building and they actually helped out in the agriculture building and with coordination," Smith said. "We couldn't ask for more. They gave us a big support."  
Commissioner of Agriculture Richard Ball said county fairs serve as a connection between urban and agricultural communities.  
"It is a great opportunity to connect peple who really have been disconnected by a few generations from agriculture to kind of bring them back home again and I think that's more relevant now than it's probably ever been," Ball said.
The purpose of the round table discussions, Commissioner Ball said, was to look at the agricultural impact of not just the State Fair, but of all fairs across the state.  
"We put in this year's budget, a $2 million investment to help them with marketing and promotion programs to enhance the vision of improved coordination — so we've got a statewide strategy for marketing the fairs," Ball said. "There will be room for them to individually do some things, but this can help them collectively drive people to those county fairs."  
In addition, the Agricultural Infrastructure Improvement Program, which has been in place since 2016, allocates approximately $5 million per year for county fairs to make improvements to things like grandstands, buildings and water facilities.
Commissioner Ball said they would like to continue to expand county fairs, Future Farmers of America and 4H programs, and the number of agricultural teachers available in New York state to continue encouraging young people to enter the industry.  
"Frankly, a lesson we learned from the pandemic is that we need a pretty resilient and responsive food system here in New York and this is a vehicle to communicate to young people and perhaps interested in careers, not just milking cows or growing vegetables, but actually being part of the food system which includes many more things," Ball said.