7 Kinds of Agricultural Tattoos for Farmers Curious about Some Ink | Farm and Rural Household Life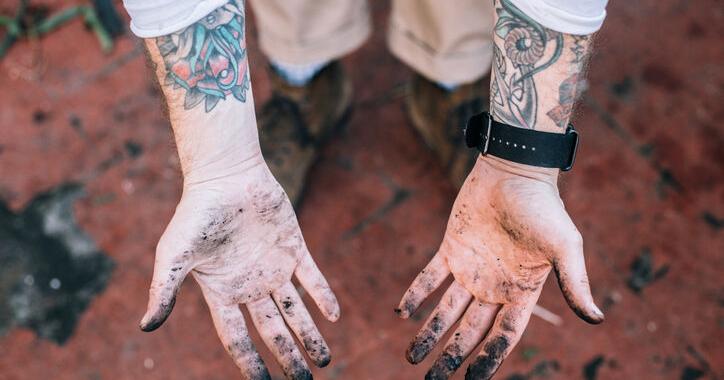 Love them or hate them, there's no denying that tattoos make a statement and offer a glimpse into a person's life and passions.
It takes a lot of passion to work in agriculture, and getting a farming tattoo can hold personal significance for those with a connection to the land and a strong appreciation for the agricultural lifestyle.
An ag-related tattoo can also celebrate family heritage, honoring generations of farmers or a long-held family farm.
Of course, not all tattoos have to hold a deeper meaning—maybe you just really like chickens.
If you're thinking about getting some farming-related ink, here are a few common types of agricultural tattoos worth considering.
Honoring the Family Farm
Some farmers choose to honor their family's farm by having it inked onto their skin. That way, they have a little piece of home everywhere they go.
A tattoo of your family farm is not only a tribute to the physical place itself, it's also a celebration of the memories and shared experiences that took place there.
Sharing Your Crop
Vibrant red tomatoes, intricate line tattoos of corn, or even small wheat stalks on the inside of someone's wrists—there are boundless options for tattoos depicting crops.
Tattoos of the crops and produce you grow represent a connection to the earth and honor the time you've spent sowing, growing and harvesting.
Celebrating the Animals on Your Farm
Whether it's a favorite dairy breed or a beloved farm dog, tattoos of farm animals are a delightful way to pay tribute to the four-legged creatures that help shape agriculture.
Animal tattoos can run the gamut from intensely realistic to cartoonish and whimsical. It's all about how you want to portray them.
Memorializing an Important Farmer in Your Life
Getting a tattoo in memory of a loved one can be a meaningful way to honor them and keep their memory alive.
If you've had an influential farmer in your life, be it a grandparent, mentor or friend, getting a tattoo in their honor is a way to celebrate the agricultural path they helped carve with you.
Repping Your Favorite Brand
Plenty of people get tattoos of their favorite sports teams, bands or cars. Why should a tattoo of your favorite tractor be any different?
For farmers who are die-hard loyalists for their preferred equipment brands, these kinds of tattoos can be a fun expression of pride in knowing they have the right machines to get the job done.
Paying Homage to Your Hometown or State
Showcasing your hometown or state in a tattoo is a powerful way to show your pride and celebrate the place that shaped you.
Many farming families have deep roots in their hometowns or states, making these tattoos powerful declarations of love for and loyalty to their home turf.
Demonstrating Your Dedication to Ag
All farming tattoos hold the potential to spark conversations and connections with fellow farmers and people interested in learning more about agriculture.
They're visual representations of farmers' connection to the land and their dedication to the important work they do to provide food for their neighbors.
Whether you decide to showcase your Holsteins, soybeans or John Deere, an agriculture-related tattoo tells the world you're proud to be a farmer.